Beilein's Elite Camp features familiar names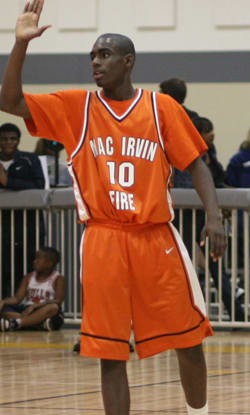 Several outstanding underclassmen will be in attendance for Michigan head coach John Beilein's Elite Camp starting Thursday night. Here's a look at some of the higher profile names on the list, team composition and other notes …
First, a few names:
Class of 2010
Cole Darling, 6-7, Holt -- Skinny, but great potential and smooth with the ball.
Duje Dukan, 6-8, Deerfield (Ill.) – Plays with signee Matt Vogrich's Full Package AAU program. Coach Steve Pratt said last year he's a Beilein type player.
Matt Kamieiecki, 6-7, Clarkston – Son of former Michigan and MLB pitcher Scott Kamieniecki.
Devin Oliver, 6-6, Kalamazoo Central – Visited for a game and the spring. Recently impressed at the Izzo Shootout.
Corey Petros, 6-9, Utica Eisenhower – Improving big man plays on AAU Team Detroit with Ray McCallum and Trey Zeigler.
Roy Marble, 6-5, Southfield-Lathrup – Son of the former Iowa great. Reportedly has an Iowa offer.
Josh Herbeck, 6-4, Ann Arbor Gabriel Richard – Great shooter who lit it up at a recent Dayton camp.
Tim Hardaway, Jr., 6-6, Miami Palmetto – Son of the former NBA great … lighting it up in warm-ups Thursday night. Will he leave with an offer?
Sutlan Muhammad, 6-2, Grand Rapids Catholic Central – Had a great camp last year and will look to follow up with another great showing.
Walter Pitchford, 6-8, Grand Rapids Forest Hills Central – Great upside. Spent some time at Oak Hill Academy and is still trying to regain his eligibility. Showing off some range in warm-ups and great hops.
Allen Payne, 6-7, Cincinnati Winton Woods – Beilein has visited, and he's been in Ann Arbor. He'll try to secure an offer this week.
Dwayne Evans, 6-5, Naperville (Ill.) Neuqua Valley – Improving shooter who does most of his damage around the basket.
Class of 2011
Spencer Turner, 6-4, Bloomington (Ind.) South – Great set shooter. Michigan has watched him a number of times.
Patrick Lucas-Perry, 5-11, Flint Powers Catholic – Lightning quick point guard, brother of (a slimmed down) Laval Lucas-Perry.
Dan Chilcote, 6-7, Jackson Lumen Christi – Plays with former Wolverine Tim McCormick's Team Legion. One to watch closely … good scorer, improving perimeter game.
Darren Washington, 6-9, Ann Arbor Gabriel Richard – Southeastern transfer with great upside.
Brandan Kearney, 6-5, Detroit Southeastern – Versatile player who can play the 1, 2 or 3. Has a Michigan offer and is very high on Michigan. Just captured gold with Team USA U16 in Argentina.
Percy Gibson, 6-8, Detroit Southeastern – Will be one of the best in his class if he grows a few inches … already plays bigger than his height.
Matt Poches, 6-4, Hartland – A warrior and an outstanding, two-sport athlete.
Austin Etherington, 6-6, Hamilton Heights (Ind.) High – Nice all-around player can score in a number of ways.
Class of 2012
Kellen McCormick, 6-4, Pontiac Notre Dame Prep – Son of Tim McCormick is deadly outside. Enjoyed some run at the recent NBPA Camp.
Ray Lee, 6-2, Dearborn Heights Robichaud – Smooth point guard with outstanding potential.
Class of 2013
Kamari Davis, 6-0, Ann Arbor Gabriel Richard – His coaches believe he has the potential to be one of the best in his class.
Notes
Hardaway and Pitchford are matched up on the same 3-on-3 team … Lucas-Perry, Davis, Turner, Kearney and Gibson are on Team Jalen Rose for 5-on-5, slated to begin Thursday night … Poches, Petros, Hardaway, Etherington and Pitchford are on Team Jimmy King,.
Watch TheWolverine.com for frequent updates from the camp …