Bell continues to grow into new position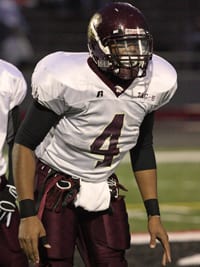 Some freshmen are ready to play the moment they step foot on campus. Some freshmen need that year off to mature physically, mentally and adapt to school. Isaiah Bell was among the latter, but now he's setting his sights on contributing in 2010 …
"Redshirting was good for Isaiah in many ways," Liberty High School coach Jeff Whittaker said. "He needed some time to make the transition from high school to college football and just from high school to college. But he's excited about the opportunity to compete for playing time now and I think a year off has provided him extra incentive to get back on the field, doing what he loves."
Bell starred at safety for the Leopards, recording 62 tackles, three pass breakups and four interceptions in his senior season. On Signing Day in 2009, Bell measured 6-1, 205 pounds. When he arrived at Michigan in the fall, he had already gained 15 pounds, and he's put on even more weight as he makes the transition to linebacker.
"I saw him over Christmas break and I think he maybe got a little too big, but I expected his body to change because he had just tremendous growth potential," Whittaker said. "He was an athlete for us that could have gone a lot of different ways. I don't think Michigan's coaches were sure whether he'd grow into an inside or outside linebacker or maintain his weight for safety.
"He can't play safety anymore, but he should be able to maintain the speed and quickness to be an outstanding linebacker."
Whittaker is unsure whether Bell will begin as the weakside or middle linebacker, but he's confident the former three-star prospect will put forth a good effort.
"I'm excited for him," he said. "We've had a lot of kids play major college ball and when they do well, it's really something special. Isaiah is a young man with great potential and it's up to him to get himself in shape physically and to make the most of his opportunity this spring."