Gardner officially commits to Michigan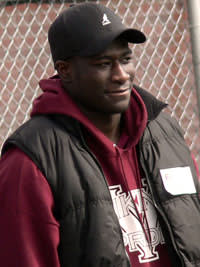 Inkster, Mich., four-star quarterback
Devin Gardner
wanted to announce his collegiate decision on his terms, on his timetable, and did so today, pledging (as expected) to become a Wolverine. The 6-4, 195-pounder made his choice Friday afternoon.
"I've made a decision; I'm going to go to the University of Michigan," he said. "I talked with my coaches and the Michigan coaches and it really feels like a family up there. I feel comfortable with my decision, so I figured I'd just get it over with now."
Being able to compete for the job early in his career was one of the main factors in his decision, he added.
Gardner's future destination has long been known. His coach, Greg Carter, told The Detroit News and TheWolverine.com March 12 that the talented signal-caller would commit to Michigan and Gardner himself informed TheWolverine.com he would make his intentions public two days later at U-M's first spring practice.
However, the nation's No. 177 ranked player changed his mind, wanting to hold a press conference after the conclusion of his basketball team's season and TheWolverine.com obliged, refusing to add him to the commitment list until he made his decision official.
With Inkster seeing its state title hopes ending March 27 in a Class B semifinal loss to Flint Powers, Gardner was ready to announce.
"He's an outstanding player," Carter said. "He was one of the best quarterbacks last year in the state of Michigan and we expect him to get even better next year. He's versatile and he fits that offense perfectly. He can throw the ball and he also can run the football. So I think it's a good choice for him."
In 2008, Gardner completed 98 of 170 passes (57.6 percent) for 1,886 yards, 26 touchdowns and seven interceptions. He rushed for 1,401 yards and 22 touchdowns on 115 carries.
Watch TheWolverine.com for more on this commitment in the hours to come, including video of the press conference.