Jon Merrills return welcome news for Michigan hockey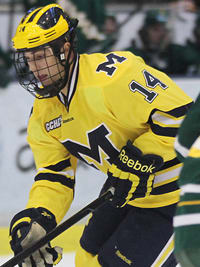 Michigan hockey received a bit of good news last week when head coach Red Berenson announced defenseman Jon Merrill would return for his junior season. Merrill is a dynamic talent that should play 25 minutes per night ...
"You're getting a difference-maker on the blue line, a guy that is a proven top CHA performer and someone who will be pushing for All-American status this year," assistant coach Billy Powers said.
"If Jon left, it would have been a very difficult loss to overcome, especially after losing a defenseman a month ago. And when you get a kid like this to re-commit to the team, that's huge because freshmen take time and even sophomores are still learning. You rely on your upperclassmen and Jonny is a guy we absolutely had to have this season."
The 6-3, 206-pound Merrill was one of the top freshmen in the country in 2011, earning CCHA All-Second Team honors, but he missed the first half of the 2012 season after bad decision-making off the ice led to an indefinite suspension. He returned in January and made an immediate impact, beefing up the Wolverines' blue line as they made a second-half charge to a No. 1 overall seed in the NCAA Tournament.
In each of the past two seasons, however, Merrill faded down the stretch, struggling in postseason competition. He's looking to address his shortcomings this year.
"Jonny will play a little more of an edge to his game - you'll see a defender that is tougher to play against," Powers said. "He won't just rely on his hockey smarts, which are as good as it gets, but without the puck you'll see a more aggressive Jon Merrill. With the puck, he'll take more pride in how he's producing, how he's quarterbacking the power play, how he's joining the rush.
"If you remember Jonny in the football stadium for the Big Chill, he was the player of that game, scoring a pivotal goal because he joined the rush and forced the puck into the offensive zone, and we need to see more of that, and that's something he wants to do.
"One of the big reasons he's coming back to school for at least one more year is because he's not a complete player, he knows it, and he's eager to put that full year together from start to finish."
Berenson had suggested back in April that Merrill would return for his junior season, but the 2010 second-round draft pick of the New Jersey Devils had options, and would not have been the first Wolverine to leave this summer. Forward Chris Brown skipped his senior year when he signed a deal with the Phoenix Coyotes in the spring, and, most recently, when defenseman Connor Carrick voided his entire collegiate eligibility by signing with the OHL's Plymouth Whalers in July.
"You have to have thick skin if you're at Michigan, at a program that recruits like we do, because the caliber of kid we bring to school are the kinds of kids that have professional aspirations and some are in a quicker rush than others to give it a shot," Powers said. "Chris and Connor made decisions that they felt were best for them. We weren't happy about it, but we moved on a lot quicker than you think.
"We believe the team we have on our roster right now will be here when we start the season, and our focus is on those guys right now."
2013 excitement building
The Maize and Blue should be solid on the blue line, with Merrill serving as an anchor, along with senior Lee Moffie and junior Mac Bennett. Highly-touted freshman Jacob Trouba - a first-round pick in June - will likely be paired with Merrill.
"We have some very nice pieces to work with this season, and if those two get together early, and it's a pair we really like, you could see them stick together for most of the year," Powers said. "It's not set in stone, but we like to have a veteran guy with a young guy and that's a pair you could really see emerging into something special."
The bigger question is at forward; U-M does not return a 20-goal scorer, though sophomore Alex Guptill (16 goals), senior A.J. Treais (15) and sophomore Phil Di Giuseppe (11) hit double digits a year ago. The Wolverines need a few skilled skaters to experience breakout campaigns, though.
"Kevin Lynch is the obvious guy because he's a senior, and he's proven he can score, and can be a terrific two-way player for us," Powers said. "He had a nice freshman season offensively and then was on a bit of a rollercoaster ride as a sophomore and junior. But so often in this program we see our seniors have their best seasons, and we think Kevin should be a 15-20-goal scorer. He's done that in spurts but now it's time to put it all together.
"A.J. also had a good year but is only begin to scratch his surface. And then you've got a pair of juniors, Luke Moffatt and Derek DeBlois, that haven't maybe had the big opportunities but have been very solid players for us. This year the expectations will be completely different and you hope both of them can score 10-15 goals, but we'd take just one of them doing that.
"Moffatt has a little more offense to his game and Derek's a grinder, but he's such a good two-way player that he should see the ice quite a bit more this season than he has, and he has good enough offensive instincts that he could be a breakout player for us."