Livers Briefly Addresses Injury Status, Diagnoses What Went Wrong Tonight
The Michigan Wolverines' 76-53 basketball loss to Illinois tonight was one of the more surprising results of the college basketball season, with the Maize and Blue not resembling themselves whatsoever in the home blowout loss.
The Fighting Illini were able to take Juwan Howard's crew completely out of their rhythm, with U-M shooting just 35 percent for the game and getting outrebounded by a 42-26 margin.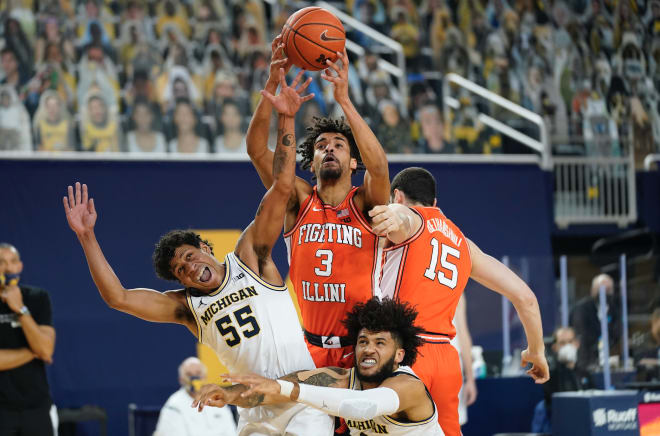 Illinois junior guard Ayo Dosonmu missed the game with injury, but it didn't wind up mattering for a Fighting Illini squad who kept their slim hopes of a Big Ten regular-season championship alive.
"They hit us first and we weren't prepared," senior forward Isaiah Livers admitted in the postgame. "They hit some big shots and had the momentum. We tried to fix our mistakes in the second half and it felt like they were on a run the whole game.
"We had to counter, but didn't do a great job of countering off their adjustments. Not to make any excuses, but we can't get complacent and can't think ahead of a game, like toward Michigan State or the bubble in Indianapolis.
"Illinois is a good team, with or without Ayo. Credit to them and the way they played, and we didn't bring it tonight. When a piece is missing and you prepared for it [Dosonmu], there's a difference.
"Guys may have got complacent or rested since he didn't play, but either way we didn't bring it and can't make excuses. I didn't bring it — the starting five to the bench to the 17th man.
"You hate to see it, but Coach Howard told us to stay together, stay as a family and bounce back on Thursday."
One positive following tonight is that Michigan will have the opportunity to quickly put this one behind it, squaring off with Michigan State Thursday night at Crisler Center. A win over the Spartans would give U-M the outright Big Ten title, just as a triumph over the Fighting Illini would have tonight.
Michigan appeared to play tight for what seemed like the first time all year, with perhaps the realization that a championship was potentially at stake weighing on them.
"I hope that's not what was in people's heads," Livers confirmed. "That would make sense though with what happened during the game, but I didn't hear much chatter about it.

"Guys were locked in and focused. We did a lot of talking but not a lot of acting on the court, getting blown out on national TV. We'll bounce back — it's 'competitors only' like Coach Howard says and we'll learn from our mistakes."
"It's possible," fifth-year senior forward Austin Davis added, referring to the notion that guys were potentially looking ahead or thinking about a Big Ten championship. "I think we were focused, though it didn't translate well.
"We've done a solid job all year of focusing on the game at hand but it just didn't translate tonight. We haven't lost many times this year, but we have experienced guys on the team so we'll stayed focused on trying to get back to playing like the team we are and returning to our habits.
"It was just a tough one."
Freshman center Hunter Dickinson dealt with significant foul trouble for basically the first time all year, enduring one of his worst outings at U-M in the process. He finished with six points and five rebounds, but only shot one-of-eight from the field.
"You can't control what refs call either way," Livers said when asked about Dickinson's foul trouble. "He has to keep moving his feet and it has to be more about his lower body than hands [while playing defense], and he didn't do that tonight and got some silly fouls.
"Hunter being in foul trouble really hurts us, but we'll get back in the lab and learn from our mistakes."
"It's part of the game," Davis added, referring to the referees' foul calls on Dickinson. "Refs can't hurt or help us — we have to adjust to how the game is being called. It's tough to do and we didn't do that tonight.
"Hunter is out there working his tail off and trying to produce and play hard for us, and that's just the way the ball rolls sometimes."
Notes
• There was a scary sequence in the second half where Livers hurt his ankle and left the game for a short period of time. He eventually returned, though the severity of the ailment is not yet known.
"I'm not entirely sure," he admitted when asked about its status. "I still have adrenaline and emotions about the game [right now]. I felt pretty good moving around afterward and will get reevaluated."