Michigan Basketball Transfer Target DeVante Jones Sets Decision Date
Michigan Wolverines basketball is strongly pursuing former Coastal Carolina guard DeVante Jones, the 2020-21 Sun Belt Player of the Year.
The 6-1, 200-pounder announced his intentions to transfer in mid-April, and his recruitment is moving rapidly. The Wolverines were one of the first teams to have reached out, and Jones was quick to listen. He went through a virtual visit with head coach Juwan Howard and the entire Michigan coaching staff on Monday, with the Zoom call having gone positively for the Maize and Blue.
Jones will officially unveil his transfer destination this coming Saturday (May 1). He is down to four schools: Michigan, Memphis, Texas and Texas Tech.
He has also entered his name into the 2021 NBA Draft and is exploring his potential opportunities as a professional as his "first option." The deadline to withdraw is Sunday, May 30 at 11:59 p.m. ET.
He will be immediately eligible at his next college destination and has two years of eligibility remaining.
RELATED: Michigan Basketball Recruiting ITF EXTRA: Intel on 2022 Prospects
RELATED: 2022 Four-Star PG Target Dug McDaniel Sets Michigan Official Visit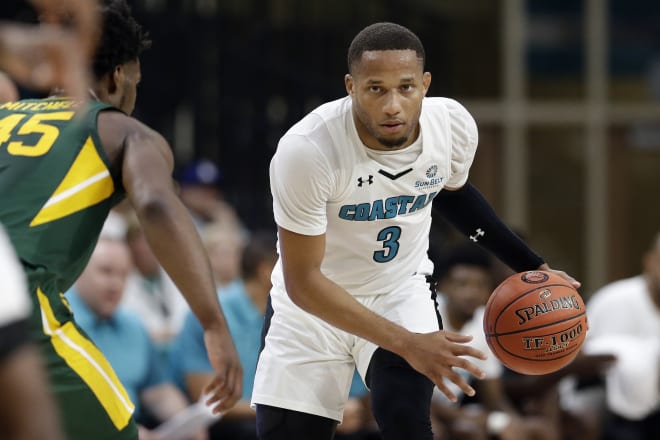 Last season, Jones averaged 19.3 points, 7.2 rebounds, 2.9 assists and 2.8 steals per game, while shooting 36.8 percent from beyond the three-point arc. He helped Coastal Carolina to an 18-8 record this past season, but is now looking to play at a higher level.
"I just want to explore all of my opportunities and have the chance to showcase my abilities on a bigger platform," he told ESPN. "I have worked hard as a student-athlete at CCU and will be graduating in May.
Added Jones: "In my next school, I'm looking to join a winning culture with a loving community. I'll only have one year so I just want the chance for a coach to trust in me to put the ball in my hands and trust me to make game-winning plays. But also, I want to be around a group of guys who love the game as much as me, if not more."
Jones appears to be Howard and Co.'s top target in the transfer portal, and he would likely pair with senior guard Eli Brooks as a starter in the backcourt if he chooses the Maize and Blue. As it stands today, Michigan has three true guards scholarship in the aforementioned Brooks, second-year freshman Zeb Jackson and true freshman Frankie Collins.
Stay tuned at TheWolverine.com for more on Jones in the hours and days to come as his decision nears.