Michigan Football: John O'Korn Says He's The Most NFL Ready QB In Draft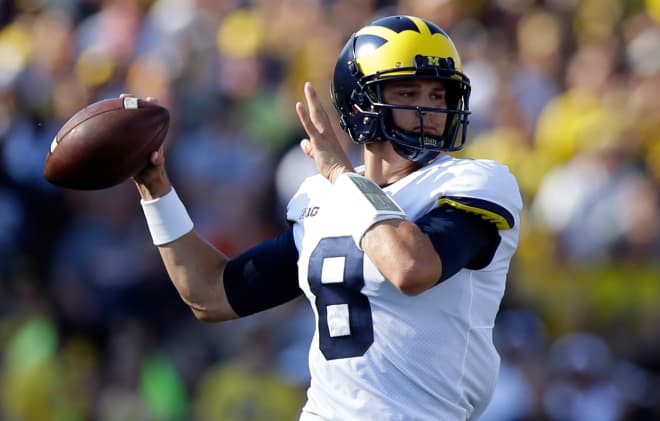 Former Michigan quarterback John O'Korn isn't ready for his football playing career to be over.
The 6-foot-4, 211-pound signal caller has spent the last two and a half months working out in Los Angeles, Calif. at the EXOS Training Facility getting prepared for the NFL Draft.
He said his time was spent working with quarterback coach Steve Calhoun, who is based out of Los Angeles, and would train for six days a week. His routine would involve morning treatments and workouts before finishing with throwing sessions in the evening.
"I got to miss winter completely so that was probably the best part," O'Korn said. "It was good. It was really productive, mentally, physically, total package. It was a great experience."
In his final season at Michigan, O'Korn took over for an injured Wilton Speight, played in 10 games and completed 53.5 percent of his passes for 973 yards, two touchdowns and six interceptions.
He said he played the entire season while dealing with undisclosed injuries that he would not comment on further, only saying that he is now fully healthy for the first time in a while.
O'Korn played in the NFLPA Collegiate Bowl back in January, which is hosted by the Rose Bowl. He played the entire second quarter and some of the fourth quarter, finishing 6-of-13 for 94 yards, no touchdowns and one interception. His team, American, lost 23-0.
"I'm just trying to make one team like me," O'Korn said. "At the end of the day, whether it's 32 teams or one team that likes you, you can only go to one camp. The goal is to make an NFL roster, that's the goal from here on out."
O'Korn is confident in his abilities. He said at the NLFPA game, he was ready to run the offense from day one of practice because U-M already runs an NFL offense, and was ahead of all the other quarterbacks when it came to terminology, adding it "wasn't even close."
The other quarterbacks at the game were TCU's Kenny Hill, Arkansas' Austin Allen, Texas A&M Commerce's Luis Perez, Holy Cross' Peter Pujals and Toledo's Logan Woodside.
"I think I'm the most NFL ready quarterback in this draft, just as far as terminology and knowing what to do on a day-to-day basis, [and] game planning," O'Korn said. "I was part of the game planning meetings with Coach Harbaugh and Coach Hamilton and the whole staff all last fall.
"I'd choose myself over any other guy in this draft in that regard."
O'Korn is expected to go undrafted and could receive an invite to an NFL camp. He participated in Michigan's Pro Day on March 23.
"I'm going to come in and work and be the best at whatever they expect me to do," O'Korn said.
More Notes:
• The Houston transfer was very pleased with the outcome of the Michigan-Houston NCAA Tournament game, which saw U-M win on a buzzer-beater by freshman guard Jordan Poole.
"I never would've lived that down if Jordan didn't hit that shot," O'Korn said. "I sent him a message saying I was very thankful that he made that shot."
• O'Korn also touched on his Michigan experience as a whole.
"It was an experience that I would never trade for the world," O'Korn said. "Similar to my experience at Houston, I had a lot of ups and downs, a lot of praise, a lot of hate. But it's made me who I am today. I'm really grateful for my time here."