Michigan Football: Predicting "breakout" seniors in 2022
It's no secret Michigan's seniors in 2021 made a huge impact with their leadership and on-field performance. As the Wolverines head to 2022 looking to replace both that leadership and performance, a new group of seniors are ready to step up from their smaller roles to become leaders and impact players. These are Michigan's seniors ready to have "breakout" seasons.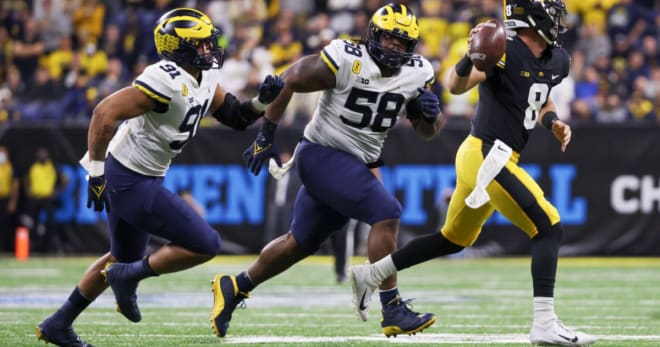 DL - Mazi Smith, Mike Morris, Taylor Upshaw
Going to group the defensive line as these three will work together to fill the big shoes of Aidan Hutchinson and David Ojabo.
Mazi Smith was a starter in 2021, but his role will drastically change in 2022. Now the most experienced DL on the team, Mazi will be called on to be a leader of the defensive front. Mazi is also expected to take a big step in the pass rush as Michigan wants its QB pressure to be more of a committee approach.
The big piece of that committee is the players expected to replace Hutch and Ojabo in Mike Morris and Taylor Upshaw. Both players have played and contributed in their time in Ann Arbor, but are likely to be the leaders at the EDGE in Jesse Minter's defense. So far this spring word has been both have been taking advantage of their opportunity and fans are going to hope they can have breakout seasons close to what David Ojabo had in 2021.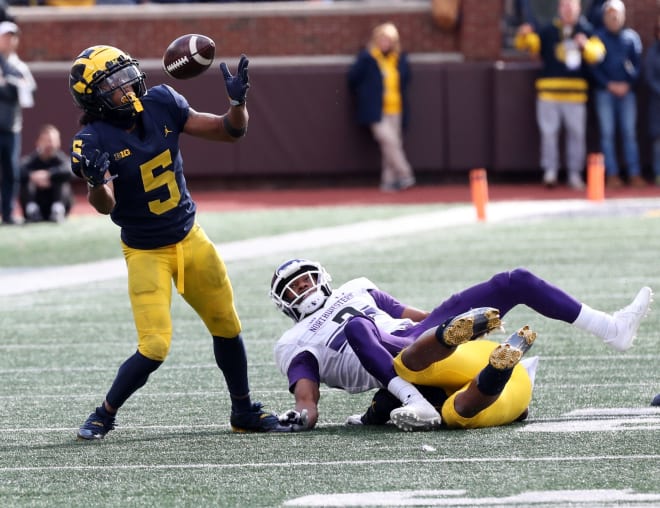 DJ Turner
DJ Turner had a breakout season of sorts in 2021. After starting the season as a backup, Turner took advantage of his on-field opportunities and earned the starting role at CB2. In 8 starts Turner would get 33 tackles, 8 PBU, and 2 INT. His biggest game was against Ohio State where he notched 8 tackles and 2 PBU.
Turner was a favorite of analytic services, PFF ranking him the best coverage corner in the B1G. Turner heads into 2022 CB1 for the Michigan defense with expectations to be the next Jourdan Lewis and David Long. I put Turner here because while he broke on the scene last year, Turner could be the best corner in the Big Ten this fall, one of the best in the country, and garner national attention.
Cornelius Johnson
Like Turner, Cornelius Johnson hardly needs an introduction. Johnson quietly led the Wolverines in receptions, and yards, and tied for the most touchdowns last season. He even blocked two punts. So how is Cornelius Johnson a "breakout" senior?
The loaded WR room has been a topic of conversation all offseason. Young players like Roman Wilson, Andrel Anthony, and freshman Darrius Clemons are all expected to make an impact in 2022. Michigan will take advantage of matchups throughout the season, meaning each WR could be called on to have a big game in any different week. The one player who I think will make an impact week to week is Cornelius Johnson.
As a recruit, Johnson was intriguing because of his size, hands, and speed. It was just a matter of development for him to put everything together. While Johnson took big strides last year, he could get to another level in 2022. Physically Johnson is maxed out, his route running is in top form, and there is no reason to think Johnson can't still stand out in a crowded group.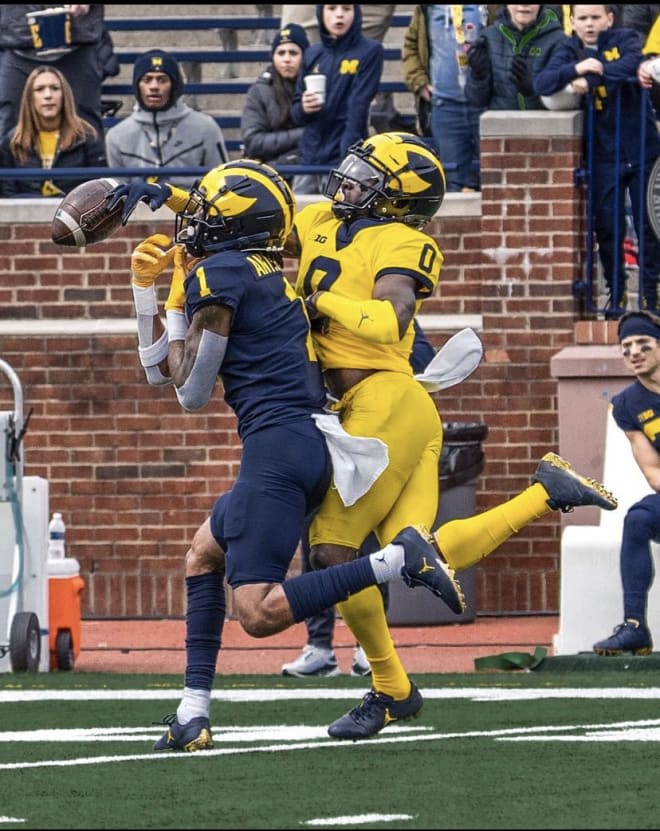 Mike Sainristil
Mike Sainristil has been a factor for the Wolverines in each of his seasons in Ann Arbor. A consistent contributor in special teams, and a receiver Michigan struggled to take off the field because his blocking was such a force in the run game. Sainristil made more and more of an impact in the passing game in 2021 as well.
Heading into 2022 a spring experiment appears to be a permanent solution. Sainristil is expected to be the starting nickel and will be called on to defend against some of the best WRs in the B1G. Sainristil's NFL prospects are better on the defensive side of the ball and a big season with the position change could get him some attention. If Michigan does indeed use Sainristil as a "three-way player" as Jim Harbaugh has suggested, it will be impossible to miss his impact.
Trente Jones
Trente Jones time has come. Jones was a four-star, top 200 recruit in the 2019 class and spent his first two seasons working on his body and technique. After contributing in all 14 games in 2021, Jones is the expected starter at RT in 2022.
Everything has come together for Jones this offseason and an expected battle with Karsen Barnhart has not been much of one so far. That is no shot at Barnhart who is a talent on the offensive line. Jones has stuck out as a physical force in the spring and while he has been blocked in previous years, he will get his opportunity in 2022 and could burst onto the scene as one of the better OL in the B1G.
---
Discuss this article with our community on our premium message boards
Not a subscriber to The Maize and Blue Review? Sign up today to gain access to all the latest Michigan intel TMBR has to offer
Follow our staff on Twitter: @JoshHenschke, @BrandonJustice_, @ZachLibby, @TrevorMcCue, @DennisFithian, @BrockHeilig, @DanielDash_, @StephenToski, @Baird_CJ, @JimScarcelli
Subscribe to our podcasts: Apple Podcasts, Google Podcasts and Spotify
Check out The Maize and Blue Review's video content on YouTube!
Follow The Maize and Blue Review on social media: Facebook, Twitter and Instagram