Wolverine Watch: New Wolverines Won't Back Down
Not so many years ago, the book on subduing a John Beilein team was clear.
Beat 'em up. Knock 'em down. Grab 'em, jam 'em, and intimidate the finesse right out of them.
It certainly didn't always work. Look at the record. But it was the best shot some teams had at the Wolverines, while Beilein argued for a freer flow in college basketball games.
Tuesday night in Crisler Center, two teams fresh off their dogsleds got into a dog fight. Michigan didn't seem to mind one bit.
They survived, and thrived, in a street fight that featured five technical fouls, a pre-game bullying bump, Ohio State's biggest man on the court going after Michigan's smallest, and a rugby scrum that threatened to blow up into a fight.
The Wolverines, the new Wolverines, shrugged it off and walked away with a 65-49 win. They're 20-1, 9-1 in the Big Ten, while the Buckeyes — averaging 73 points per game and coming up 24 shy in this one — slid to an also-ran 3-6 in conference play.
There's no question the officials let two fierce rivals play. The teams combined for only 18 free throw attempts. But these days, it's the visiting coach hinting at excess physicality.
"I think we can handle it better," OSU boss Chris Holtmann said of the second-half acrimony. "That was the accumulation of some frustration, for a variety of reasons. I thought the game was really physical, for the bulk of the game. When the game is that physical, those things tend to happen."
He noted one of his players got "plowed" near the end of the first half, with no call.
"If it's that physical of a game, that's how you've got to play," Holtmann said. "If that's the way a game is going to be called, you've got to raise up your physicality."
Michigan has raised up its physicality — not for one game, but overall.
"When you've been in the weight room, when you've been here for two or three years, you know what the expectation is," Beilein said. "We can't expect freshmen to do it as well, without fouling.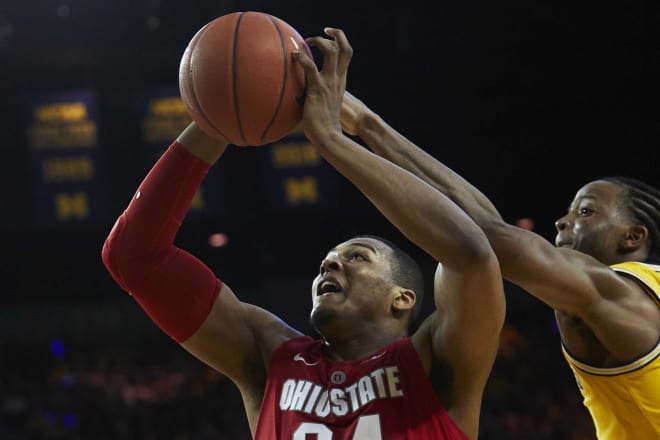 "That wouldn't have been Jon [Teske] two years ago, right? But Iggy [Brazdeikis] stepped right into that role right now. Charles [Matthews} can play real physical as well, and of course Zavier [Simpson] is."
Of course.
Simpson — the heart and soul of Michigan's hard-edge approach these days — played a major role in his team's pull-away win over his home-state school. He dropped a triple-double on the Buckeyes — 12 assists, 11 points, 10 rebounds.
Shockingly, that almost seemed secondary to what the junior point guard delivered in attitude.
As colleague Chris Balas laid out, a pre-game nudge by OSU's Justin Ahrens set the tone. Plus, Simpson remains motivated by a heartbreaking loss in the prep state championship game against OSU's Wesson brothers, Kaleb and Andre.
The burly Kaleb Wesson stands 6-9, 270. Simpson checks in at 6-0, 190. Didn't matter. Simpson took him on like chopping down the biggest tree in the forest.
He pulled off a block/steal on the most mammoth Wesson at one point, on a play where it appeared his only option was to foul from behind.
"At first, I was just going to foul, but he looked at me … he gave me that look like nothing was going to go down," Simpson said.
Oh, it was going down. First the shot, then the square-off.
At one point, Wesson clocked Simpson in the neck area, sending him sprawling to the court. No call. The tougher-than-rhino-hide guard scrambled to his feet, barking at an official about the oversight, and having a word or two for the big man himself.
"No, we don't share those," Simpson cautioned. "What happens on the court stays on the court."
What happened on the court next led to the cascade of technicals.
The pushing and shoving commenced, fellow Ohioan and the generally mild-mannered Teske getting right in the middle of it, along with Matthews and several others. If the Buckeyes retained any hope at Crisler, it ended there.
The new Wolverines don't mind edgy. They embrace it.
"Of course," Simpson said. "We feed off that. That's our motivation, when things get chippy in a game. We thrive off that. That hungers us. That keeps ups going. That makes us want to make the next best play."
Simpson often answers questions with a you want to challenge me on that? sort of look. It's exactly the visage he assumed when asked if he wants to be the leader of the feeding frenzy.
"I AM the leader of that," he said, glaring.
Michigan is the leader of the Big Ten, along with Michigan State. There's a long way to go, and many more intimidators out there.
These Wolverines say, bring it on. They're ready to heat up, and they won't back down.