Ohio State Stuns Michigan, 37-21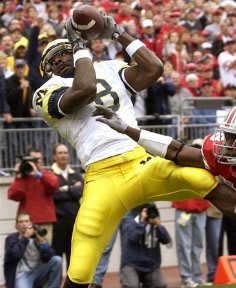 Maybe a season's worth of improbable come-from-behind wins masked some of their deficiencies. Whatever it was, a Michigan team that lived on the edge much of the season was beaten soundly in all areas by an OSU team that - surprise - looked nothing like the team that had suffered four losses in the conference, putting a damper on U-M's potentially special season. And it wasn't the loss, so much as the way it unfolded, that was the most disappointing.
OSU quarterback Troy Smith – with a handful of starts under his belt -- looked like Donovan McNabb against a passive Michigan defense, picking the Wolverines apart with his arm and his legs, throwing for 241 yards and running for 145 more. He drove the Buckeyes 99 yards for a touchdown in the first quarter after U-M had grabbed momentum with two scores, which followed the latest big play against the Michigan defense -- a 68-yard touchdown pass to Anthony Gonzalez on OSU's first possession.
At the half, a team that had averaged 300.1 yards per game this year, struggling to put first downs together let alone put points on the board, had amassed 337 yards and 20 points.
"You've got to give Ohio State credit, because the way we've always tried to if you have that kind of field position, the odds are we're going to stop them," said Lloyd Carr. "We couldn't stop them. I think Ohio State played great today."
To prove their long first-half drive wasn't a fluke, the Buckeyes marched 97 yards to go up 34-14 in the third quarter, with Smith doing most of the damage running out of the shotgun. Whether he was running designed plays or scrambling, Smith picked the Michigan defense apart, continuing U-M's struggles against spread offenses.
Missed tackles were one Achilles heel. On third-and-eight from his own 36, Smith broke free from LaMarr Woodley, then busted left 46 yards for a first down to the Michigan 18. His pass to Santonio Holmes for 12 yards capped the drive that put the Bucks up 20. A possession earlier, freshman phenom Ted Ginn broke free from gunner Marlin Jackson on a punt return, taking it 82 yards for the touchdown that changed U-M's offensive approach.
"They really started to blitz a lot more," said Carr. "They created a lot better pressure on the quarterback after the first quarter, then they really did a great job preventing us running the football like we had hoped to do."
"Then they did a great job mixing their coverages, doubled certain receivers … but I don't think, at times, we protected well. Chad got hit too many times today and some of that was once Ginn's punt return changed the complexion of the game, now we're throwing almost every down. That, of course, is exactly where the defense wants to have an offense."
Michigan's first two drives, though, couldn't have gone much better. After OSU's big play, during which Smith had all kinds of time to throw against a three-man rush, U-M responded with touchdowns on its first two possessions. A 39-yard screen pass to Mike Hart set up a four-yard touchdown pass to Jason Avant to tie the game. Hart rushed 10 yards to the OSU one to set up a one-yard score following a 19-yard pass from Chad Henne to Jermaine Gonzales.
From there, it was tough going. U-M managed one first down in the second quarter, and didn't score in the third. Down 34-14, Henne drove the Wolverines inside the OSU 10 but threw a first-down interception to Ashton Youboty at the one to end the threat.
Braylon Edwards' over-the-shoulder touchdown grab on Michigan's next possession proved too little, too late. When Edwards dropped a fourth-and-one pass at the U-M 29 with 7:51 remaining, setting up a Mike Nugent 48-yard field goal, the writing was on the wall.
Though disappointed with the loss, Carr said the Wolverines wouldn't apologize for winning the Big Ten, and – should Iowa take care of business against Wisconsin – earning a trip to the Rose Bowl.
"We're not feeling sorry for ourselves," said Carr. "We've had an outstanding year. When you win the conference championship, you don't have to hang your head. Are we disappointed? You're damn right we are. But by the same token, we did some things, too."
Notes:
• Ginn returned four punts 123 yards and just about broke one in the first half before his big one in the second, going 20 yards before Darnell Hood corralled him. Carr said U-M didn't plan to kick away from him.
"Our plan was to kick the ball high and we got the ball very high," he said. "I think we had him bottled up there (on the 82-yarder). That return looked to me like it was designed to go the other way. We had him, and some way, he got away. You can cause yourself a lot of problems by kicking away, too. We just didn't do the things we wanted to do there."
• The Buckeyes finished with 446 yards total offense to Michigan's 399. Hart finished with 61 yards on 18 carries, averaging 3.4 yards per rush, while Henne completed 27-of-54 for 328 yards with two touchdowns and two interceptions.