U-M continues to target Ohio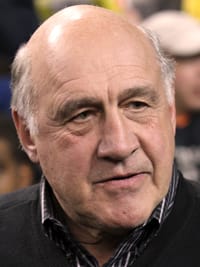 The depth of the rivalry between Michigan and Ohio State cannot be understated. But as much as those who live and die with the Maize and Blue may abhor their southern rivals, the state of Ohio continues to be one of the most fertile recruiting pipelines for U-M.
In the past two classes alone, the Wolverines have locked up 18 prospects from the Buckeye state, accounting for 34.6 percent of total signees. In comparison, 17 Michigan natives have pledged to the program in the same time frame.
"Ohio is one of the top states in terms of talent recruited and Michigan, with its reputation, can recruit wherever it wants," said Avon (Ohio) head man Mike Elder, who coached 2013 cornerback commitment Ross Douglas. "I think it helps that Coach Hoke mentions the last game of the year all the time in his press conferences, and kids from Ohio understand how important it is and they like that."
Hoke is 1-1 in that last game of the regular season, but after luring in one five-star and nine four-star prospects from enemy territory in his first two full recruiting cycles as head man in Ann Arbor, Michigan's future squads will not only be deep and talented, but will possess a first-hand realization of the importance of The Game.
"Understanding the rivalry is really important," said defensive coordinator Greg Mattison. "That last game in November, you need guys that know how important it is. I want my guys to be crying before that last game because it is such an emotional game, not crying because it is cold.
"This next season, all of these kids we have recruited from Ohio last year will be playing a lot more, and they will start to feel it a lot more. Now we are all going to feel that emotion more. Every year under Brady, with the way we recruit, you are going to see it drive us more and more."
Recruiting success in Ohio has not always been a guarantee for U-M, particularly in the latter years of former OSU head coach Jim Tressel's tenure. Although the Maize and Blue captured high-end prospects such as four-star wide receiver Mario Manningham and four-star center Justin Boren (who would infamously switch allegiances and transfer to the Scarlet and Gray in 2008), it collected merely eight-total commitments from the state from 2004-07, including zero in 2007.
The Wolverines were 0-4 against the Buckeyes in that time span, and would continue the skid with losses in 2008 and 2009 when the classes in question had fully matured. In the subsequent five seasons, the Wolverines have averaged 7.7 recruits from the state, including many athletes that have played a large part in the program regaining its footing in the first two seasons under Hoke.
Although Ohio State head man, and time-tested recruiting aficionado, Urban Meyer will provide great opposition along the recruiting trail, Hoke and Co. appear up for the challenge, and are extremely pleased both with their 2013 haul and prospective future in the Midwest.
"I don't know if I would call it a battle," said linebackers coach Mark Smith on posturing for the same prospects as OSU's coaching staff. "They will make their decisions and we will make our decisions. If it happens to be on the same kid, we'll sell what we have and they'll sell what they have, and the kid will decide.
"You look at [2013 linebacker] Mike McCray, for every intent and purpose he should have gone to Ohio State. His dad was a captain at Ohio State, but like his father said, 'What's right for me isn't right for Mike.'"
"We did very well there," offensive coordinator Al Borges added. "There was a lot of talent in Ohio and we were very fortunate to get some of those kids, but we had to work very hard to get those kids.
"We are always going to recruit Ohio. Ohio is close and a lot of kids are interested in Michigan; we have good roots there"
But the right move for an Ohio prep standout may not always be perceived as such for those wearing Scarlet and Gray-tinted glasses, especially when that move is to 'That School Up North.'
It takes a strong-minded and mature individual to reject the hometown Buckeyes in favor of their eternal rival in the midst of the hornet's nest that is the passionate, and sometimes cruel, Ohio State fan base.
"It is guys like Dymonte Thomas that are special," said Mattison of the 2013 Alliance (Ohio) four-star safety, who committed to Michigan as a high school junior. "You have to be tough to be right in the heart of Ohio as one of their top recruits, and with word constantly getting out that we're going to get him, to stick with Michigan all the way.
"You don't know how tough that is to be earmarked as one of their top recruits and say, 'No, I am going to Michigan. That is where I am committed to.' That is the kind of guys we are committed to and want in this program."
The ever-increasing inclusion of social media into the recruiting scene has offered yet another avenue for scorned fans to deride rival recruits, something members of Class 134 from the heart of Buckeye-country are all too familiar with. Still, they remain resolute in their commitment to play their college ball in Ann Arbor.
"The state I come from, and being from central Ohio, I caught a little backlash but I'm happy with where I'm at, and I had to do what was best for me," said four-star defensive end Taco Charlton, who was one of six early enrollees from the 2013 class.
"It was a big deal for the fans on Twitter," said four-star tight end Jake Butt, who also enrolled in Jan. "They dropped in and let me know what their opinion was, but my family and friends close to me respected my decision and they're the only ones I care about. They had a few jokes for me, but they support me.
"I like to think Ohio football is tough so when you get guys from Ohio you have an advantage. I'll definitely be going balls to the wall every time we play those guys because I want to beat them."
Bonus Notebook
In discussing recruiting the Midwest, Mattison shared a story about a particular recruiting battle with legendary Michigan head coach Bo Schembechler. An assistant at Northwestern at the time, Mattison was closing in on an unnamed, highly-touted recruit who would later develop into a first-round NFL draft pick ... in Ann Arbor.
"I had him, I had the kid," Mattison laughed. "I recruited him so hard and I knew that I had him. Bo pulled up to a pay phone - we didn't have cell phones back then - and told the kid, you have five minutes to tell me if you're coming to Michigan or you're going to Northwestern.
"He was a great player, and I still have the letter from his mother apologizing and telling me how much she wanted him to come play for me."