Michigan Midseason Superlatives: MVPs, Top Position Groups, More
Michigan football has reached the halfway point of the season right where many believed they'd be — 5-1 with a loss at Wisconsin. But the record doesn't tell the entire story.
This Michigan team has yet to prove it can put a complete game together, minus Rutgers (and, keep in mind, pretty much everybody does that against the Scarlet Knights). We can't say they've continued to show the improvement you'd like to see heading into the back half of the schedule — not after a 10-point game against Iowa and a second-half head-scratcher at Illinois.
Not only did the offense struggle, but the defense also played uncharacteristically poorly in the second half in allowing the Illini back in to the game.
That won't fly against most of the other teams on the schedule. If they continue to play like they have the last six games, the Wolverines will be starting 8-4 in the face.
Here are bests, worsts, surprises, disappointments and more from the first half of the season:

Offensive MVP — Sophomore WR Ronnie Bell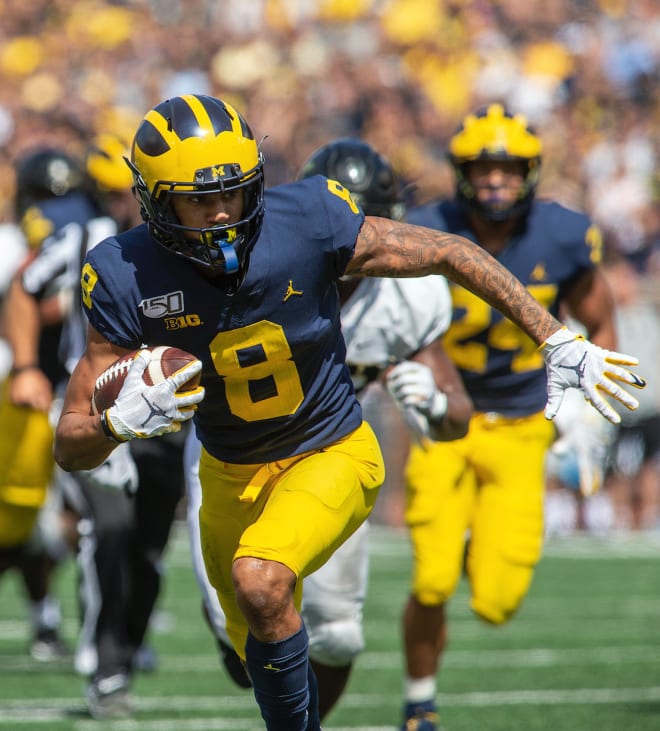 The second-year wideout was supposed to be one of "the other guys" to complement juniors Nico Collins and Donovan Peoples-Jones along with redshirt sophomore Tarik Black. Instead, Bell has become one of junior quarterback Shea Patterson's favorite targets, leading the team with 20 caches for 361 yards. He's moved the chains on 16 of those grabs, has been targeted 38 times this year — nine more than anybody else — and gained 210 of his yards after the catch, according to Pro Football Focus (PFF).
The former two-star recruit and basketball player isn't perfect, having dropped a few balls (three according to PFF), but he never takes a play off, is the best blocker of the receivers (from what we've seen) and plays every down like it matters. This offense has a chance to be very good if more follow his lead in the second half of the season.
Defensive MVP — Senior DT Carlo Kemp
This is a tough one given how many Wolverines are playing well on defense. There are literally four or five guys who could get the nod here, and it's usually someone different every game leading the team in sacks, tackles for loss or some other impressive statistic.
Kemp, though, is most valuable in that they'd pretty much be toast without him. He is the glue in the middle, not very big but disruptive and quick off the ball, and he's always up and chasing the play when he's not making a play.
There's not a guy on defense who doesn't play with a high motor, honestly. Defensive coordinator Don Brown gets the most out of his group in that department, and Kemp is their leader. His impact goes far beyond the 22 tackles, two tackles for loss and one fumble recovery he's credited with on the stat sheet.
Runners-up: Ends Aidan Hutchinson and Kwity Paye, corners Lavert Hill and Ambry Thomas, and linebacker Josh Uche.
Best Position Group – Cornerbacks
Senior Lavert Hill gave up one big play against Iowa, but he also made a few incredible ones when tested, including an interception Brown called one of the best he'd seen.
Redshirt freshman cornerback Vincent Gray gave up a couple over his head at Illinois, though he's generally been one of the defense's pleasant surprises this year, and junior Ambry Thomas is a PFF Midseason All-American. His coverage grade of 89.8 from PFF is elite and ranks third nationally among all cornerbacks.
Thomas' 85.8 overall PFF grade is the second highest on Michigan's defense, trailing only junior defensive end Kwity Paye's 87.1. He also leads Power Five cornerbacks who have been targeted at least 15 times, with a 17.2 passer rating allowed.
The strong play has allowed U-M's pass defense to rank ninth nationally in fewest passing yards allowed (160.5 yards per game).
Runner-up (and a close second): Defensive Ends — Paye, sophomore Aidan Hutchinson and graduate transfer Mike Danna have been very good in their roles.
Top Freshman — RB Zach Charbonnet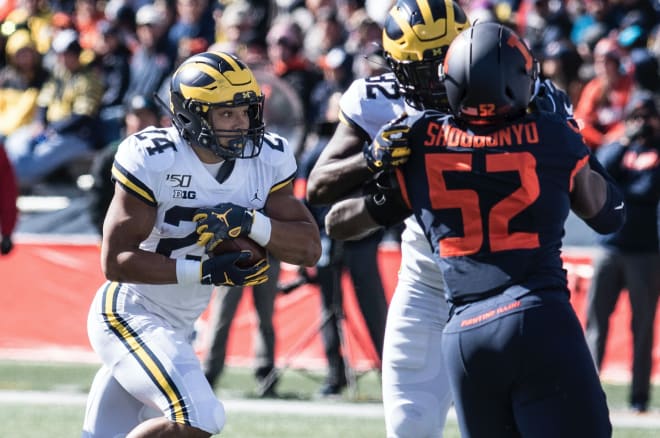 This is an obvious one, of course. Charbonnet has run for a team-high 376 yards and is averaging 4.8 yards per carry while playing at less than 100 percent with a bit of a gimpy knee (which has limited him to five carries or less in two games).
He also leads U-M with five touchdowns and ranks second with 402 all-purpose yards (right behind team leader Bell's 428).
He hasn't proven to be the breakaway threat yet — only one run of better than 18 yards (41 in the season opener against Middle Tennessee State) — but he's outstanding in pass protection and will need to have a great second half if the Wolverines are going to contend in the Big Ten.
Runners-up: WR/KR Giles Jackson, TE Erick All — Jackson's been a solid kick return guy (22.2-yard average) and has even caught a touchdown pass in limited action, while All has made an impact as a blocker.
Offensive Breakout Player — Redshirt Freshman RT Jalen Mayfield
The redshirt freshman right tackle could be more consistent, but he plays with an edge (like senior left guard Ben Bredeson), finishes blocks and isn't content to just do his job and let the chips fall. He plays to the whistle, likes to get under defensive ends' skin and moves extremely well.
His PFF grade of 74.1 ranks fourth on the team, and third among those that play regularly (behind only PFF Midseason All-American Michael Onwenu and Bredeson).
He and fellow redshirt frosh tackle Ryan Hayes are going to be a nice tandem down the road.
Runners-up: RB Hassan Haskins, Bell — Haskins ran for 125 yards against Illinois and has shown off some nice footwork at times, while Bell has taken his game to another level.
Defensive Breakout Player — Redshirt freshman LB Cameron McGrone
The redshirt freshman inside linebacker came out of nowhere mid-camp to provide several 'wow' moments. Now he's being used like star Devin Bush was a year ago, a speedy blitzer who can get off blocks and make plays.
His 24 tackles, 3.5 tackles for loss and 2.5 sacks don't begin to describe his contribution. He notched 11 tackles and a forced fumble against the Illini.
"He's playing steadily," head coach Jim Harbaugh said. "The play he made to turn momentum with a big exclamation point back to our football team … to come right back and make the play he did, defeated the blocker, got to the quarterback, got him, grabbed him and then punching ball out, that's a big-time play.
"We're seeing his instincts on darn near every down. Once is a happening, twice is a trend, three times is a habit. This is a darn good football player."
Runners-up: Hutchinson, safety Brad Hawkins, Gray, linebacker Jordan Glasgow. All of these guys are playing at a high level and bring it every game.
Least Expendable Offensive Player — Charbonnet
Yes, Haskins had a nice game against Illinois, and senior Tru Wilson is solid, but Charbonnet is the one back on this team capable of moving the chains against good defenses … and even he is only averaging 3.2 yards per attempt against Associated Press top-25 competition.
Charbonnet is the best pass blocker of the bunch, too, though Wilson is good in that respect.
Runner-up: Senior left guard Ben Bredeson — He's the guy on the offensive line who brings the consistent edge on every down.
Least Expendable Defensive Player — Redshirt junior DT Michael Dwumfour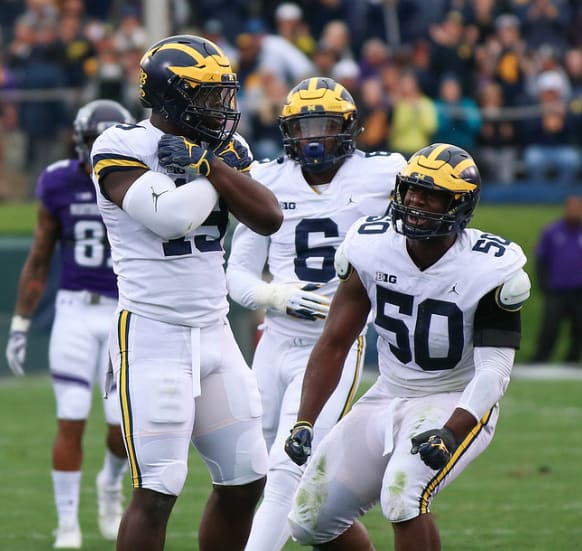 The redshirt junior defensive tackle is disruptive, and when he's not in there (see: Army, Wisconsin), this team struggles up front.
Dwumfour was a difference-maker against Iowa and can muster some interior pass rush that's been lacking when he's on the sidelines. Though he officially has just one tackle in four games, PFF has credited him with six quarterback hurries so far.
There's a huge drop-off behind him, so the Wolverines need him healthy for the back half of the schedule.
Runners-up: Thomas, Lavert Hill and senior safety Josh Metellus — There's not enough depth at cornerback right now, and the same could be said for safety. Freshman Daxton Hill is coming along, but he played only eight snaps at Illinois. The three aforementioned defensive backs are near-irreplaceable, though U-M was able to win without Lavert Hill at Illinois.
Position Group With The Most Room For Improvement — Offensive Line
We're going to stop short of calling this group "most disappointing," but we had higher expectations of this bunch. They've been together for several years now, but the lack of consistent push and nastiness continues to plague these guys.
The pass protection has been better the last few games, but they should be picking up blitzers in their sleep at this point. As a group, PFF lists them tied for 57th nationally in pass blocking efficiency — they have allowed 36 quarterback pressures so far (four sacks, five hits and 27 hurries in 209 pass-blocking snaps).

Runners-up: Quarterback, tight ends, receivers — There have been too many dropped balls (12 per PFF) and there's been too much inconsistency both blocking and catching. The passing game should be better than it is, and it's a combination of inconsistency from senior Shea Patterson, sketchy at times line play and inconsistent effort at wideout.