Maurice Hurst's Draft Stock Slipping, May Go Round Two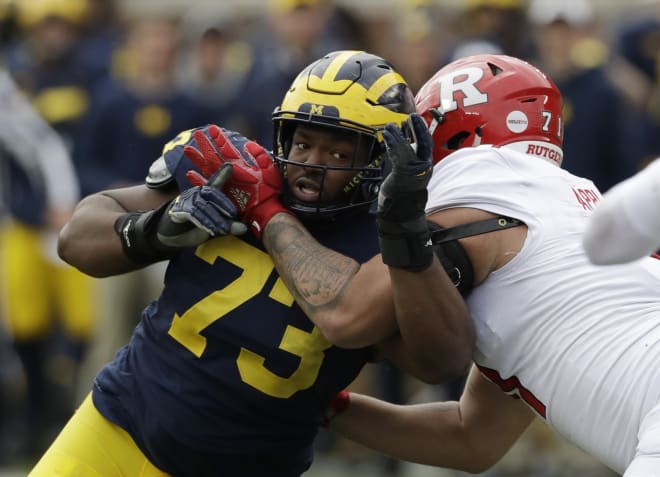 It's been an up and down pre-draft season for former Michigan defensive tackle Maurice "Mo" Hurst.
Initially projected as a solid first-round pick, Hurst wasn't able to participate in the NFL Scouting Combine due to a heart issue, causing his stock to drop. He then was cleared to participate in U-M's Pro Day, saw his draft stock go back up, but now it seems the general consensus among draft experts is that he's more likely to go in the second round.
Below we've rounded up were Hurst and other Michigan draft prospects are ranked and projected to land in the draft, which is tonight at 8 p.m. on ESPN and NFL Network (first round), tomorrow (second and third rounds) and Saturday (fourth through seventh rounds).
Mock Drafts — Mo Hurst
SECCountry.com's Connor Riley: 31st overall to the New England Patriots
What They Said: "He had some medical concerns at the combine, meaning he could anywhere. But he was one of the top players in the country last year and could be a steal at this point in the draft."
CBS Sports.com: 32nd overall (final pick of the first round) to the Buffalo Bills (via trade with Eagles)
What They Said: "The only on-the-clock trade! Trapasso offered me No. 53 and No. 65 for No. 32. That's a nice net win for the Eagles to move out of the slot so I dropped back. Trapasso was willing to move up after landing his QB at No. 12 in order to get the "best one-gap penetrator" and a replacement for Kyle Williams."
WalterFootball.com — 35th overall (3rd pick of the second round) to the Cleveland Browns
What They Said: "The Browns acquired several players recently, but they did manage to trade one away. That was Danny Shelton, a run-plugger. Larry Ogunjobi will take his place, but Cleveland needs an interior rusher to start next to Ogunjobi."
Other Michigan Players In Mock Drafts
Position Rankings
Zone Coverage (which is a composite ranking of 48 sites):
Maurice Hurst — No. 1 three technique defensive tackle, No. 19 overall
Mason Cole: No. 3 center, No. 108 overall
Mike McCray: No. 21 linebacker, No. 191 overall
ESPN's Todd McShay:
Maurice Hurst: No. 8 defensive tackle, No. 61 overall
"Hurst has the quick hands and explosive first step to disrupt plays in the backfield despite being an undersized defensive tackle with short arms. He has all the tools to be a productive pass-rusher and is expected to emerge as an effective starting three-technique or nose tackle in a 4-3 scheme."
Mason Cole: No. 5 center, No. 94 overall
"A captain and leader, Cole has bounced between center and left tackle. He's clearly a better fit at center, as he has some problems handling speed off the edge, but he doesn't have the strength to regularly move defensive tackles off the ball."
Mike McCray: No. 10 inside linebacker, No. 257 overall
ESPN's Mel Kiper:
Maurice Hurst: No. 4 defensive tackle, No. 51 overall
Mason Cole: No. 5 center, No. 136 overall
Mike McCray: No. 29 outside linebacker
Khalid Hill: No. 4 fullback
Ty Isaac: No. 55 running back
John O'Korn: No. 37 quarterback
Henry Poggi: No. 18 fullback
Patrick Kugler: No. 18 center
Roto World's Josh Norris:
Maurice Hurst: No. 1 defensive tackle, No. 8 overall
What He Says: "Where He Wins: Burst off the snap to shoot gaps or attack edges of interior offensive linemen. Hurst is so quick that he takes advantage of any error on the inside. Late on a reach block? Hurst is in the backfield. Hesitate to fill for a pulling lineman? Hurst will make a play. Likely fits as a 3-technique in a one gap defense, but has plenty of snaps at 1-technique in a NASCAR package. Plays low, which helps carry the momentum he created. Plays with timing and vision to separate and make plays on the ball.
"Forecast: Interior disruption is king, and Hurst offers it most consistently in this class. Hurst was held out of the Combine with a heart concern, but he has since been cleared."
Mason Cole: No. 194 overall