Staff Predictions: Michigan Wolverines Football vs. Rutgers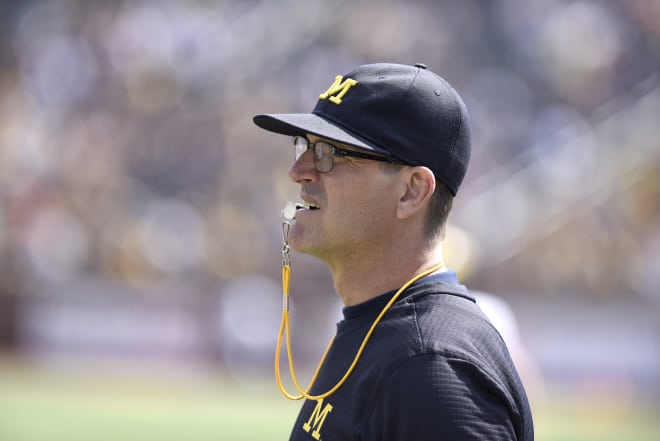 We arrived in Piscataway via the toll road, encountering a Rutgers stadium worker in the booth while we paid our fee. Even he (unsolicited) offered, "You guys in from Michigan? I'd say your team goes into this one with about a 42-0 lead."
Yes, it will be disappointing from a Michigan standpoint if this one is still a game at halftime. Only once do we remember a 40-point underdog pulling an upset — Jim Harbaugh's Stanford team against Pete Carroll's USC team several years ago.
Simply put, we know Jim Harbaugh. Chris Ash is no Jim Harbaugh (hell … he's not even a poor man's Tom Crean).
The goal Saturday is to win, of course, but the margin of victory doesn't really matter. It's about keeping guys healthy and tuning up for the Buckeyes in two weeks (and yes, we're aware Indiana comes to town Nov. 17).
Congratulations to last week's winner. This week's wins the admiration of his colleagues.
The Picks:
Chris Balas: Nothing beats the feeling of Piscataway in November and all the tradition that comes with the birthplace of college football … searching for first conference wins, students leaving in droves at halftime and fans responding with "wait 'til Lacrosse season!" Michigan 48, Rutgers 0
Brandon Brown: Michigan is actually favored by 40 against Rutgers and that's probably not enough. Poor freshman quarterback Artur Sitkowski is going to have a long, long day and may not finish the game. That's not wishing ill will on him, it's just a realistic prediction — he's going to get hit a lot. Shea Patterson may only throw the ball 15 times and U-M still probably puts up more than 50. Michigan 55, Rutgers 0
John Borton: The Revenge Tour takes a detour into euthanasia this week. When the most compelling aspect of the showdown involves predicting the Michigan backups likely to see the most playing time, you know it's Rutgers week. Ash to ashes, dust to dust. Michigan 55 Rutgers 6
Austin Fox: There really isn't a whole lot to say about this one — Michigan is going to dominate in every facet, and it'll be over at some point in the second quarter. Perhaps the biggest question surrounding this game is how the coaches split up the reps between Brandon Peters and Joe Milton in the second half once Shea Patterson has left the game. For all you betters out there, feel free place big bucks on Michigan covering the 38-point spread. Michigan 63, Rutgers 3
Andrew Hussey: This is by far the worst offense Michigan has faced in the Big Ten and the Wolverines will steamroll the Scarlet Knights. There's no let down on this "Revenge Tour" and Michigan's backups will get a lot of playing time Saturday. Michigan 49, Rutgers 0
Drew Hallett: The only question is whether Rutgers scores zero points. Michigan 59, Rutgers 0
Adam Ghabour: Michigan 55, Rutgers 10
Doug Skene: If Michigan is the team I think it is, the game will be over by the end of the first quarter.56, Rutgers 3