Alex Legion back to Michigan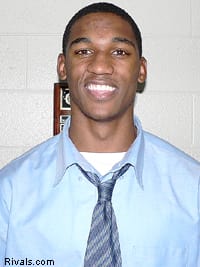 TheWolverine.com has confirmed that 2007 shooting guard
Alex Legion
has recommitted to Michigan. Having originally pledged his intentions to the Wolverines back in November, he reopened his recruitment in April when he transferred to Oak Hill Academy. Coming full circle, he has once again decided that he will spend his collegiate career in Ann Arbor.
"After looking around and talking to a bunch of other college coaches, I realized I have the best relationship with Coach Amaker," he noted.
Legion contacted the Michigan head coach late Tuesday afternoon to inform him of the good news, reaffirming that he will indeed be a Wolverine.
"He was real excited to have me," said Legion. "He's trying to get Michigan Basketball back to where it's supposed to be."
The return of Legion to the 2007 commitment list will certainly be a big step in acheving just that goal. A member of the Rivals150, he is rated as the no. 38 prospect in the nation, and the no. 11 shooting guard.
In an interview with WXYT 1270's Doug Karsch, Legion was questioned on whether his commitment to Michigan is completely solid. "Absolutely," he responded. "I want to make Michigan a football and basketball school."
While he confirmed that a facilities upgrade wouldn't hurt in reaching that level, he went on to state: "It's what you do in the facilities that counts."
Legion also made it apparent that the recent pledge of Detroit (Mich.) Redford guard
Corperryale Harris
played a factor in his decision.
Legion's commitment comes the day before Flint (Mich.) Powers Catholic's
Laval Lucas-Perry
was set to decide between Michigan, Arizona, and other. It now appears unlikely that the Wolverines will have room for the 6-1, 185 pound guard prospect.