Borges assesses running backs, talks MSU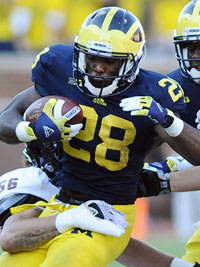 Redshirt junior Fitzgerald Toussaint hasn't had the same impact he had through six games last year, but he's earned the right to continue to start, offensive coordinator Al Borges said Saturday. The other backs have run well, however, and earned the right to more carries.
Sophomore Thomas Rawls continues to improve and would be No. 1 on that list. He ripped off a 63-yard touchdown on his way to 90 yards in a 45-0 win over Illinois.
"Thomas has earned a right to get in there a little more, but no, I don't really have any concern about Fitz," Borges said. "Fitz ran hard and did some good things in that game. We're lucky in that Thomas started to surface. That just gives us more depth, which is really good news.
"Thomas is a physical guy; always has been. We'll use in him some short yardage situations, but we're going tot use him all over the place. It's not restricted to just that. I think the team likes that. The team, the line likes the physical nature of his running style."
Redshirt freshman Justice Hayes, too, showed well in his first extended game action.
"We'll find spots just like we do for Vince Smith at some point in time," Borges said. "He's been doing a nice job. He's kind of a Vince Smith type, only a little bigger. He's a really good open field runner. He's got some quickness and some speed. The biggest thing is there's only one ball and our quarterback runs the ball, too, so it goes way beyond just the normal distribution in the run game.
"All of our backs are a little more experienced now. It's kind of cool because last year they were all learning the system and all that. You had to be careful who you put in there. Now our guys have played a little bit and are getting more and more solid, which is how you build a football team. It takes time at that position to where they're comfortable and you're comfortable with them."
Borges is still hoping to strike a balance between Robinson's yardage and that gained by the backs.
"It wasn't bad and hasn't really been bad the last couple of games," he said. "Just remember, don't expect every game to be balanced yardage. That's not going to happen. That happens very seldom. If that does happen, good; it will probably be a great game.
"As long as Denard's not carrying it every time where he's got to carry it 50 times, we're getting closer to a balance. I would like the balanced yardage, don't get me wrong, but as long as the pressure isn't totally on him every time, that's good."
Notebook
Borges said all of his tight ends were becoming better blockers.
"They're all pretty good at this point," he said. "Devin Funchess has improved the most. I don't have any reservations about doing it with any of them. It was a concern at the beginning, but I don't know if I'd favor any one over the other at this point."
Borges acknowledged Michigan was "out-physicaled everywhere" in last year's game at MSU.
"You go out there with an attitude that you're going to exceed their intensity," he said. "You don't let people do that to you. It's that simple. There's no more to it than that. We practice physical as it is. You have to have a mindset that you're ready to play in a figurative fistfight. If you don't think that way, don't come to this game."
Physical play starts with the offensive line but isn't limited to the group, he added.
"It's everybody this game," he said. "It goes way beyond the offensive line. So much of what you do, the success you have or don't have is dictated by how they play, but this goes beyond that. This is a challenge to everybody on the perimeter, the running backs, the quarterback. Then Greg [Mattison] will probably give you a whole new dissertation on defense.
"But this is one of those games we all have to step to the plate, play as hard as we can for as long as we can, understand the theme of the game is to win. Whatever it takes to do that."
Countering MSU's plan to stop Denard Robinson is a matter of homework, Borges said.
"You just study their schemes and work on how to attack their schemes," he said. "I don't know any other way to say it without giving it away. You've got to practice what you think they're going to do, have hopefully some good, calculated play calls that put you in some advantageous situations, hope the lesser play calls aren't disastrous so you can line up and play again.
"I've been coaching that way forever and I'll always coach that way, whether it's Michigan State or whoever. You've got to study, study, study and hope your players understand what you're teaching them. Go get them. Don't over evaluate, don't under evaluate. Let the kids play fast. That's really the key."
They won't shy away from trying to do what they do best, he added.
"It's the coordinator's job to make sure there are never situations where the defense can literally say, 'here it comes,' whether it's disguising your looks, disguising the action in the backfield, whatever," he said "The one thing you don't want to do is get away from what you do best, knowing there are going to be times you have to have some counterpunches to that. But we are what we are."
Michigan State's run defense will be tough, Borges said, but U-M will be ready.
"Notre Dame was a good run defense; so was Alabama," he said. "Michigan State does as good a job as anybody does, but you still can't abandon what you do best just because of the other team. You've still got to do what you do and have the counterpunches to hopefully loosen them up to do what they do."
The playbook didn't shrink with redshirt freshman Russell Bellomy in the game last week; nor should it, Borges said.
"That's the first thing I asked him," he said. "I always have a plan for when the backup quarterback is in. When I talked to Russ when he came in, I said are you ready to roll? He says yeah, everything's up. I'm ready. Do we approach it a little different? Maybe a little. But the plan doesn't take a complete shift.
"Russ is a good runner. He's not Denard Robinson, but he can do some things. He's smart, manages things well. He just needs experience. The more he plays - when that comes, you don't have any idea. When he gets a little more experience, you'll see."
Robinson has been much better with the read option this season, Borges said, and it's shown up in his rushing numbers.
"We've changed a few little things about that," he said. "We've done a few things, tweaked that a little bit. I think it's helped."
The offense wants to possess the ball while taking its shots at the big play, Borges said. They've struck a solid balance with it in many games this year.
"That's the ultimate, the ability to strike fast and ground it out," he said. "We're not an up-tempo team. We're not likely we're to have 500 yards a game. We don't play that game. We want to make sure there's a balance in the game, keep our defense off the field. We want to run the football, convert third downs … play what Brady calls Michigan football. … it's not very popular these days.
"But our plan is we want to possess the ball as much as we can, score as many points as we can but not to the point we're so obsessed with running 80 football plays that we could have three and outs that could keep our defense on the field."