Brad Hawkins' 2021 Goals: Beating OSU, Being A Top Defense, Making The NFL
The 2021 season is a big one for Michigan Wolverines football. Head coach Jim Harbaugh, who just inked a four-year contract extension that included a pay cut, is in his seventh year in Ann Arbor.
The Wolverines are coming off a shortened season in which they posted a 2-4 record, and now have six new assistant coaches — four on the defensive side of the ball — that are trying to life the program back up to its previous level that had it on the brink of championships.
It's also an important year for fifth-year senior safety Brad Hawkins, who is utilizing the extra year of eligibility the NCAA gave out due to the pandemic. He's hoping to hone his skills in order to make himself even more of an impact player for the Maize and Blue and hopefully a NFL defensive back in the near future.
"Mainly just my speed, range, playing in the middle of the field, getting sideline to sideline, on top of fade balls," Hawkins, who was fourth on the team in tackling with 39 stops last season, told Jon Jansen on the 'In The Trenches' podcast when asked what he's working on the most during spring practices.
"My techniques with footwork, hand placement, trying to do a better job and more of a job of pressing defenders and just getting my feet right up underneath me, playing off-coverage and things like that when we play man coverage. Those are mainly the important things that I've been working on — speed and range from the middle of the field and getting better at those things to succeed and be prepared for the next level."
RELATED: Breaking Down The Impact Of Giles Jackson's Transfer And What's Next
RELATED: Into The Blue: Walter Nolen Visit Scoop; Intel On DL Recruiting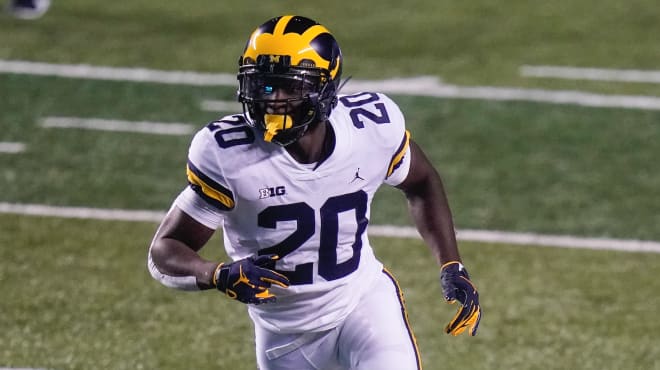 Speaking of the next level, Hawkins is grateful to have some of the coaches in charge of the defense — coordinator Mike Macdonald and co-coordinator/secondary coach Maurice Linguist — having plenty of NFL experience. Macdonald spent the last seven seasons with the Baltimore Ravens, most previously working with linebackers, and Linguist just came to Ann Arbor after helping lead the Dallas Cowboys' cornerbacks group.
"You know, these are NFL guys," Hawkins explained. "There's some experiences that they have had with NFL guys and being in the league. We're learning NFL concepts, we're learning an NFL defense, so it's definitely something that's a little challenging but also good for us.
"With us being the defense that we are and having those guys come in, being young, they bring a lot of energy to the program, a lot of energy to the players. Practices are a lot different. Just the different concepts that we do — you've got zone concepts, you've got man concepts, you've got mesh concepts.
"It's definitely something that we're going to continue to learn, we're going to continue to grind out, and it's something that is helping all of us as a team, and it's something that's really, really good for us. Learning it now, so when we get to the next level, we'll be comfortable with it."

Despite ranking 84th nationally in total defense and 95th in scoring defense last season, Hawkins, a candidate to be a captain this fall, said that the goals for the unit remain lofty and that they're not conceding anything.
"Of course, being the best defense in college football — 11 hats flying to the ball," Hawkins said when asked what the goals for Michigan's defense are. "All of us, we have a goal of being the best defense, being the best tackling defense. A lot of teams don't express tackling, we do a lot of things with tackling as a defense — we've gotta tackle.
"Getting the ball out, everything is surrounded by the football, so you want to get that ball out, you want to punch that ball out, you want to make interceptions, you want to make big plays that change the game.
"And we want to be the best, we want to be the No. 1 defense in the country, and we want to be unstoppable. We don't want to give up any points, we want to hold teams to zero points. That's our goal and we'll continue to strive for our goal, and we're going to continue to work."

Leading the safeties group is former Michigan wide receiver Ron Bellamy, who was previously a state championship-winning head coach at West Bloomfield (Mich.) High. Hawkins and his fellow safeties, despite being coached by Bellamy for just a couple months now, have already embraced his leadership style.
"It's very special for us as a safety group to have him come coach us," Hawkins said. "He's very knowledgeable — he knows the game, he played the game. He played here, so he's very familiar with the history. He won a Big Ten championship, so he knows what it takes to win, he knows what it takes to go out there and grind every single day. He knows what it takes to go out there on a day that you don't feel like it but you have to do it. He knows everything that comes with the game.
"That definitely helps us as a group, just having him talk, having his knowledge in the building and having his knowledge every single day. It's something we grow on, something we listen to, to continue to help us grow in our game. Having him as a coach, as a mentor, it's just been outstanding. He's a great person, he's a great coach and I love him."
Michigan hasn't beaten arch rival Ohio State since the 2011 season, something that the Wolverines' players are very aware of. In his fifth-year, there's nothing more important to Hawkins than bucking the trend in the rivalry.
"Everything. It means everything to me," Hawkins said of the Michigan-Ohio State series. "Every single time I walk into this building, everything that I do is preparing for them. In the weight room, I'm preparing for them. On the football field, I'm preparing for them. In the meeting rooms, I'm preparing for them.
"So everything … what are you doing today to beat Ohio State? That's the goal. What are you doing today to beat Ohio State. Everything that I do, everything that we do in this football building is preparing to beat those guys over there."