Brandon Harrison Makes It Michigan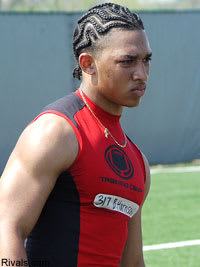 The fallout from Notre Dame's firing of head coach Tyrone Willingham has paid dividends for one of their biggest rivals, Michigan, with the commitment of Dayton (Ohio) Chaminade-Julienne cornerback prospect
Brandon Harrison
. The one time Irish verbal commit announced today that he would be spending his collegiate career in Ann Arbor playing for the Wolverines.
"I am going to school at the University of Michigan," said Harrison in a press conference carried live to a national audience on ESPNews.
After a weekend official visit to Michigan ended this past Sunday, Harrison realized that was the place he wanted to spend the next four years of his life. He had taken an official to Iowa, his other finalist, the weekend prior and had even named the Hawkeyes his leader heading into the Michigan trip. When all was said and done, however, the 5-9, 190-pound cornerback went with the Wolverines.
The four-star prospect first made his splash on the national recruiting scene last April at the NIKE Football Training Camp in Columbus, Oh. There he was named Camp MVP after running a stunning 4.25 40-yard dash and looking unbeatable in passing drills. Although his height may not be ideal for a corner, Harrison makes up for it by his toughness, speed and strength. In the weight room he routinely bench presses over 320 pounds and has his squat max at 550.
The commitment of Harrison for the Wolverines addresses one of their key needs for the class of 2005 – depth at the cornerback position. The loss of All-American cornerback Marlin Jackson and team-leading interceptor Markus Curry creates a big hole for the Wolverines to fill with underclassmen and incoming recruits. The addition of Harrison and Fresno (Calif.) Edison cornerback prospect Johnny Sears should help to alleviate those concerns.
Iowa, and even Notre Dame, made last minute pitches to sway Harrison in their direction, but in the end the opportunity at Michigan was too much for the prep star to pass up.
"They (Michigan) need corners and I have the opportunity to come in and play," Harrison told HawkeyeReport.com earlier this week. "They told me that physically I'm able to come in and play like right now, but it's all on how I pick up the scheme and the defense."
This season for Chaminade-Julienne, Harrison picked off four passes from his cornerback position despite not being thrown towards by most teams. He also used his blazing speed to return a punt and kickoff back for a touchdown, but both of those came early in the season as teams once again chose to go away from Harrison.
Ultimate ticket subscribers can now see video on Harrison from his junior season by following
this link.
Watch for more on Harrison in the days to come from
TheWolverine.com.