Caris LeVert "Blessed" To Be A Brooklyn Net
Michigan shooting guard Caris LeVert's long, tougher-than-expected road to the NBA ended when he became the Brooklyn Nets' pick at No. 20 (via a trade with Indiana) in the June 23 NBA Draft. The soft-spoken, 6-7 standout went higher than anyone expected … except for perhaps LeVert himself.
"If you're worried, pray. If you've prayed, don't worry," LeVert tweeted hours before the draft, making it clear he'd done plenty of it.
The Nets moved nine-year veteran Thaddeus Young to get LeVert, and when it came to LeVert and his injury history (three foot surgeries in two years), they had an advantage - Dr. Martin O'Malley, the doctor who performed LeVert's foot surgery on March 22, also happened to be the Nets' team foot and ankle specialist.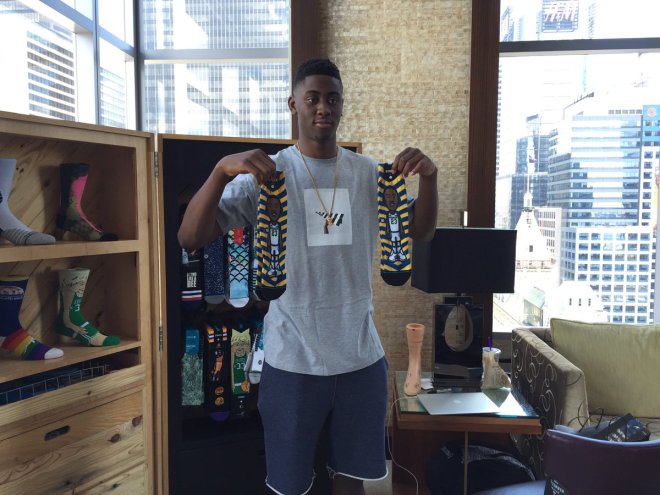 LeVert had told NBA GMs he was healthy in his heartfelt, open letter on The Players' Tribune website, comparing his situation to NBA All-Star Kevin Durant, but he had an ace up his sleeve in O'Malley whether he knew it or not. As a result, the first two guaranteed years of LeVert's contract will reportedly be worth $1,301,900 in 2016-17 and $1,360,400 in 2017-18 on the rookie pay scale.

"I'm really blessed to be in this situation," LeVert said after taking the stage post-draft. "Through all the adversity I went through the past couple of years, I'm lost for words right now to be here.
"I knew the [Brooklyn] staff really liked me, but I didn't know if they had any first round picks. But I'm blessed to e part of this organization … blessed to be in a great city as well. Happy to be here."
LeVert won't be able to play in NBA Summer League games due to his injury, but he told reporters his X-rays and CT scans show he's completely healed. He met with Brooklyn officials several weeks ago before the draft.
"I'm just trying to do whatever it takes," he said. Next year as a rookie … I know rookies have a tougher role on the team, but I'm ready to fulfill whatever role the team needs me to do. And then for the long haul just get better, be one of the guys for the team.
"I'm not really sure what type of role I'll have. Right now it's still early. But whatever role they give to me, I'll be ready to fulfill that role."
He's a long-term thinker after all, he added, one of the reasons he wrote his letter to NBA GMs.
"I felt everybody else was telling my story and speaking for me, so I felt like that was a great opportunity for me to speak for myself," he said.
"I'm just excited. I know it's a lot of work to be put in right now, but I'm just excited to get to this point."
And hard work has never been a problem for him.