Carr: Mundys season likely over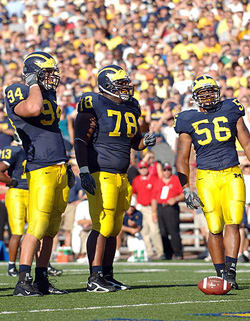 Ryan Mundy will likely miss the remainder of the year with an injury similar to the one that ended Lawrence Reid's career, Lloyd Carr reported at his Monday press conference. The junior free safety has been playing with pain for much of the last year, and it finally got to be too much.
"Mundy, I think, will not play in game competition this fall," said Carr. "There's nothing to take care of except that we were hoping he would be able to return. It's very similar to Lawrence Reid's injury.
"What he's decided is that he can give it some rest so we can see what happens in spring practice. I'm not particularly encouraged. I'm disappointed that it just hasn't come around."
Because he played as a true freshman, Mundy would be eligible for a redshirt since he's appeared in less than the number of games allowed this season.
In other injury news, Carr said he's hopeful Mike Kolodziej will return this Saturday. The right tackle woke up one morning last week with an undisclosed illness, but said Saturday he's fine and expects to play.
"It was nothing that happened … he just woke up last Wednesday morning and didn't feel well," said Carr. "They're doing some things to try to find out … I think he's fine, but I just don't know."
Carr touched on a number of other topics Monday. Here's the recap:
On the onset of league play: "We're excited about beginning the Big Ten season, and certainly about going to Madison to play a very good Wisconsin team. It's a great way to start the season off.
"I've had an opportunity to watch Wisconsin. Defensively, they have rebuilt in a hurry. I like their linebackers. They do a lot of things up front. They're very athletic. They had a dominating performance Saturday night against North Carolina.
"Offensively, it's Barry Alvarez, hard-ball football. He wants to line up and knock people off the line of scrimmage. He's got [Matt] Bernstein, a big, 265-pound fullback, which is exactly what you like to have when you're going to run the football.
"[Tailback Brian] Calhoun has been referred to by Barry as the best tailback he's ever had. I don't know that he said that, but if he did, it is indeed high praise, when you consider Michael Bennett and Ron Dayne, who won the Heisman Trophy. I remember a great back named [Brent] Moss that he had back in the early 1990s.
"It's a typical Wisconsin football team. The thing that impressed me was that North Carolina was deep in their own end for much of the game. They had a hard time moving against that Wisconsin defense, so … here we go."
On Mike Hart's status for the game: "I would suspect that we'll have to see how he does tomorrow. I really cannot tell you."
On Michigan's other injured: "I can't tell you. Until we practice … every week you've got a new game plan, different challenges. We've got to be prepared to go with people who have practiced. Whether or not any of those guys will practice, I can't tell you.
"What I can tell you is, I haven't had any reason to believe they will, or won't. What I'm saying is, they all want to play. They were all getting treatment yesterday [Sept.18]. They all were getting treatment this morning, this afternoon.
"I know this – every one of them will do everything he can do to be prepared to play. Now, Doug Dutch came down with a 103-degree temperature last Friday and was ruled out of the game. I expect Doug back."
On the playing time his younger receivers got versus EMU: "We went into the game with the idea that because of Adrian Arrington's absence and with Doug Dutch missing the game, it gave us opportunity that we really were looking for, which was to play Mario Manningham more, and to get Antonio Bass into the game. We were able to do that.
"They made some mistakes in there. They're not where they need to be in terms of understanding all the nuances of their position, but certainly, they'll learn from that experience. Both of them got the football and did some good things."
On Michigan's game-day schedule, given the 6 p.m. start time in Madison: "About four hours before the game, we'll be on the same routine. The difference is, we've got some time between breakfast and that four-hour period. We'll get up a little bit later, have a light breakfast, and then we'll take a walk, have a short meeting, and they'll have a little bit of time in there to watch some of the games that are being played. Then we'll get ready to go to the stadium."
On his relationship with Alvarez: "I first met Barry when he was an assistant at Iowa. He used to recruit the Detroit area. Certainly, I've gotten to know him a lot better since being the head coach at Michigan. I really like him. I like the way he runs his program, and I like the way he plays football. I like him as a person."
On shooting for a national title versus a Big Ten title: "Everybody knows what the big prize is up there. Even before the BCS was set up, everybody knew the polls were what determined the national championship. The polls are still very, very much involved in that selection.
"The BCS, with the media coverage and all these games being televised – starting on Wednesday nights – college football gets a lot more exposure than it did 15 years ago. That has really had an impact on the national championship.
"At Michigan, our team sets its goals in the fall. The national championship has always been a part of that discussion. Obviously, being in a conference which has an automatic berth into the BCS, you understand that the Big Ten championship is still an extremely important goal."
On Adam Kraus: "He did a wonderful job going to guard to replace Matt Lentz. He played as well as we could have expected him to play. He made our Victor's Club, which goes to those guys who have excellent performances. To do that in his first start at guard … he's a very, very bright guy.
"He came here as a tight end, and played here his freshman year, his redshirt year, as a tight end. We moved him inside and he's done a very good job. He's a hard worker and a guy who loves to play the game.
"I saw him as I was coming into the office, and I asked him what he liked best. He says, 'I like 'em both.' He pays attention."
On Alex Mitchell's play: "Alex Mitchell has very, very good ability. He did some very good things. But it's very typical – one of the problems we've had these last two weeks is that some of the protections have broken down. Alex made a mistake in that game. On the first touchdown pass that went to Jason Avant, his man came off and hit Chad Henne as hard as you can hit a man. He's got to learn from that.
"He made very good strides. The first play he played, in the first game, he jumped offsides. Every time you get to play, you learn something. You're less nervous. You're more secure in what you're doing. That really is the good news about Saturday. We had a lot of guys with that opportunity."
On the freshmen playing: "I look at the depth and their opportunity and, after training camp, what they've proven as far as being able to pick things up, what their work ethic's like. Do they have the kind of concentration that you need at this level to be able to learn in meetings, to be able to study film? If they have that type of maturity, that's something you take into consideration.
"A lot of times, a guy doesn't have that. He hasn't had all the meetings we have here. If you can't learn in meetings, it's going to take you much longer to get ready to play, at least well enough that you don't hurt the team.
"You're looking at a lot of things. But certainly we've had some guys play who have been very impressive. Brandon Logan played in there some at linebacker. John Thompson got some playing time. John Thompson has been outstanding on our kickoff team. Brandon Logan will play an important role as we go forward on our special teams.
"Of course, [Kevin] Grady has played a lot. [Brandon] Harrison played his best game on Saturday."
On the defensive line depth "Alan Branch has really stepped up. He's been very, very productive. But we're not as deep inside as we would like to be.
"The good news is, Terrance Taylor got a chance to play 14 or 15 snaps in there on Saturday. He's a guy that will get better and better. We need him to do that, because it does give us more depth.
"We're not as deep as we would like to be, but I don't know that you're ever as deep as you want to be."
On Wisconsin's running game: "When you have the leading rusher … I haven't seen the NCAA stats yet, but going into that [North Carolina] game they were averaging 345 yards a game rushing. That's pretty significant.
"[Bernstein] ran the football a year ago in some of those situations, short yardage, but they had some injury situations. The question is, if Bernstein goes to tailback, who goes to fullback? Can you replace him with a guy like that? As a coach, I don't know that you want to take him out of what he does so well.
"What I saw was that Calhoun, in the heat down in North Carolina, only came out for a couple of plays. He played almost every down. That speaks to how tough he is and how strong he is, and certainly how well conditioned he is."
On playing at Camp Randall Stadium, where no one on the roster has yet competed: "With the exception of our freshmen, we have a lot of guys who have played on the road. They just haven't been to Madison. If you've never been on a road trip, the guys who have are preparing them.
"We had some crowd noise in our practices last week, which is a shock to guys who are hearing it for the first time. You can't hear. The coach is yelling, and he shouldn't be, because they can't hear you anyway.
"The idea is to do as much in practice as you can to simulate the noise factor and the communication, how much closer you have to listen. We'll work on all those things. We'll do everything we can."
On Adam Stenavich: "He's had a wonderful career at Michigan. He's a three-year starter. He's a guy that is very smart. He's an outstanding technician. He takes great pride in the way he does his job, both from a competitive standpoint and from the standpoint of the things he's been taught to do.
"He's a very good leader, because of his consistency. He's the same, day-in and day-out. I never have to get on Adam Stenavich because he isn't practicing hard, because he's making mental mistakes, because he's not doing the things he needs to do.
"He's been a lot of fun to have around. He's the kind of guy that you know is part of the backbone of our team, from the standpoint of playing the game like you want a guy to play the game."
On prepping for a night game: "I was thinking about blotting out the sun … I'm assuming [the stadium] is well lighted.
"I guess daylight savings time has been changed this year, but normally, in the last two or three weeks of the season, we practice at night. Most of these guys have played games at night in high school.
"The big thing is to be ready for the crowd noise. You do what you can do to try to take the crowd out of the game. That's what we'll be striving to do."
On whether he likes night games: "I love night games … for high school.
"Honestly, with a five o'clock start, Central Time, I don't know how much of that game will be [in darkness]. Now, if they continue to take 10-minute breaks for timeouts for commercials, it might be quite dark. If they do a better job of limiting the timeouts for commercial use, maybe we won't play too long in the dark."
On fullback Brian Thompson: "Brian Thompson is off to a wonderful start. You never know, coming off a foot injury. He's an extremely tough competitor. All during training camp, he fought the discomfort of coming off that injury. He rehabbed it as diligently as you could ask a guy to, because he has a great desire to play.
"He's tough. He knows what he's doing now. He was a tight end in high school. He played some fullback, but he was a linebacker and originally we started him out at linebacker here. I've always liked the idea of having him on offense, because he's got very good hands.
"He is really playing well. He's had some great blocks on the perimeter and he blocks well on the off-tackle play and on the isolation plays, and he can catch the ball. I like Thompson a lot. I just hope he can continue to play and stay healthy."
On why Michigan doesn't run the fullback more: "In the old days, you would run him because you'd run the option. You'd run the option, you'd fake to the fullback in the line and then when they started stopping the belly play or the inside trap … once you got away from option that changed the type of running play.
"Good fullbacks are almost a dying breed. If you look at the NFL, there are a lot of one-back teams unless it's short yardage, or you might see a linebacker as a lead blocker … those are high collision plays, and the durability, it's hard to keep a guy healthy for the length of the season.
"If you're a two-back team that we like to be at times, you need a guy that's tough and willing. The thing we've been very successful is off of play action, faking the ball to the tailback and using the fullback as a receiver. I think it started with Aaron Shea and since then we've had guys that could catch the football. That's one of the things we look for in that position."
On wearing the bulls-eye as the two-time Big Ten champ: "Being the type of program we are, that's always our goal. The most important thing for our team is what our goals are. You can't worry about the other guy. You have to take care of the things that are under your control, you need to play together understanding your success is going to be determined by how well you play as a unit, and making sure every guy is playing as hard as he can. That's always a factor if you're defending a championship, but I don't think it's anything we're dwelling on."
On whether he gets a chance to dwell on what he's accomplished: "Hopefully I'll get a chance to do that one day."
On roommate assignments on the road: "When we go to a bowl game, we try to pair them with their friends, because it's a long stay, but a lot of times when we go on the road we will try to match up a young guy with an older guy, a guy who's been around. If you put two young guys together, you don't get the feedback, such as 'Make sure you're on time, make sure you're dressed properly, make sure you're doing things that are going to help you prepare for the game.'
"That's something we try to do during the season, so it will help a player."
On Tim Jamison's health and impact: "I think he's healthy or he wouldn't be playing. He's a guy that has a lot of ability. The problem he is facing right now is, he missed almost the whole year a year ago. From an experience factor, he's not where he needs to be. But Tim is a very aggressive guy, and I think he's going to develop into a very good football player.
"Against certain teams, there is going to be a role for him. Hopefully in the next few weeks he'll gain enough experience and confidence that he'll be able to help us. Because he's got ability."
On Steve Breaston: "I think he's not played like he wants to play. He came into training camp, and he was limited somewhat with a hamstring that slowed him down. Steve Breaston is one of those guys that expects so much of himself that if he doesn't do everything right, it bothers him. I'm trying to tell him to relax and play and don't worry about the critics. That's almost a surefire way to not play like you're capable.
"I think Breaston will be fine. I think he's just got to play like he's capable, and I think he will."
On the receivers' play so far: "We're young. With the loss of Adrian Arrington, we have guys we're trying to get ready to play who are freshmen or guys who didn't play a year ago. Doug Dutch did some good things the first couple games. He can run, and I think he'll factor in here as we go forward. Like I've always said about experience … you know the rest of it."
On Matt Gutierrez' play: "I like the fact that we got him some experience. I think he did some good things, I think he's made some mistakes. I think he'll learn from the experience."
On whether the visiting team has a say in starting time: "I haven't read the contract. I just read the paper that says show up at six o'clock, so that's what we do. Should they be? That's not for me to determine."
On Gabe Watson not starting: "I'm not going to say a lot about it. It's not an easy thing … it's a difficult thing for everybody. But you have to start with the fact that it's a competitive situation. That's what the game is really about.
"Absolutely [it's hard for me], because any time a guy is in a position that there are great expectations, and for whatever reason – sometimes it's an injury, sometimes it's something else. Those are tough for everybody. It is what it is. I'm not going to talk about some issues on a team. The player-coach relationship is one of them."
On whether he expects Mike Hart to play Saturday: "I hope."
On Matt Lentz: "The reason he dressed was to see in warm-ups. He could go out and run, loosen up and sometimes a guy can do that and feel much better. Twenty-four hours, 48 hours, it's amazing the progress some of these injuries you can make with them. But there was never any intention to play him."
On the running back situation: "Max Martin got a lot of good work, Jerome Jackson has had a very good fall. The key for us at that position is to have a guy that will protect the quarterback and secure the football. We have been relatively careless with the ball. We didn't have any issues Saturday, but we have to take care of the ball and protect the quarterback. If we can't do that, we're going to really struggle offensively.
"What we're trying to do is have some balance, get the ball to people who can do something with it. You can't just line up and run the tailback off tackle. It's a little bit different world than that, and Wisconsin is going to put more than the law allows at the line of scrimmage. I'm trying to get that rule changed that you can't put nine guys up there, but that's what they like to do.
"Until the rule changes, we have to throw the ball. We'd like to just run every down."