Chris Barnett no longer at U-M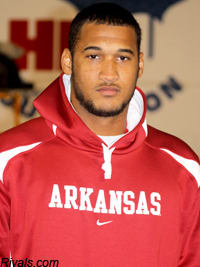 Freshman tight end Chris Barnett, out of Hurst, Texas, reported on Twitter this morning that he is "no longer at the University of Michigan," and athletic department officials confirmed the news. Barnett becomes the third Wolverine in the past two weeks to opt out of the U-M program.
The 6-6, 245-pounder came to Michigan sporting high hopes, great size, soft hands and the desire to play early. He'd been rehabilitating and recovering from a knee injury suffered in his senior season of high school football in Texas.
Rivals.com rated Barnett a four star, the 14th-best prep tight end in the nation, the No. 32 performer in Texas and the No. 224 performer nationally among high school seniors.
Freshman offensive lineman Tony Posada and junior receiver Je'Ron Stokes have also left the program in the last several days.
Watch TheWolverine.com for more on this breaking news story ...