Cracked vertebrae sidelines junior D-man Jon Merrill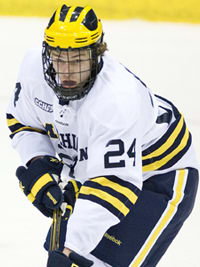 Junior defenseman Jon Merrill sat in the stands Wednesday during practice, immobilized in a neck brace that stands to sideline him for much of the first half of the season, head coach Red Berenson said today.
"He has a cracked vertebrae - the seventh vertebra, bottom of the neck/top of the spine," Berenson said. "It was definitely a result of when he went into the boards [in Tuesday's exhibition against Windors]. We had him MRI'd and cat-scanned. It's not displaced but it's serious enough to immobilize it for awhile."
Berenson said he believes Merrill will be out for weeks but also noted he will be back this season.
"It's one thing I talked to their coach before the game - I said I hope it's a good game and we have no injuries," Berenson said. "It's unfortunate. It could have been worse. I've seen a lot worse injuries on innocent plays like that. It's tough but Jonny has a good attitude and he'll come back and be better than ever."
Merrill was expected to be Michigan's top defenseman this year and was poised to team up with highly-touted freshman Jacob Trouba on the blue line in what could have been the nation's best defensive pair. With Merrill out, the Wolverines will turn to junior Kevin Clare and a host of other defenders.
"[Sophomore] Brennan Serville has played with [senior] Lee Moffie in practice so we'll see leave them together," Berenson began. "We'll split up Clare and [junior] Mac Bennet. Mac will play with [sophomore] Mike Chiasson and Clare will play with Trouba.
"It's an opportunity for Kevin Clare in that role Jonny would have played, defensively and on the penalty kill. Kevin Clare has been an improving player from day one and I think he'll do a good job.
"It also brings in younger players, Chiasson and Serville, that were freshmen last year, they need to play strong and not hurt us defensively. We need them to play mistake-free."
Michigan opens the season Thursday night when it hosts RIT in a pair of games at Yost Ice Arena. TheWolverine.com will provide coverage and analysis of both contests.