Defensive coordinator Scott Shafer Resigns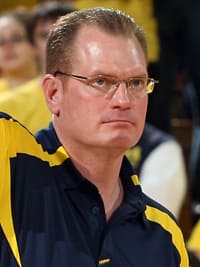 Michigan defensive coordinator Scott Shafer has resigned and will not be back with the team next fall, head coach Rich Rodriguez announced today. The first-year coordinator had not been seen at either of U-M's two big recruiting weekends, fueling speculation about his future with the program.
The rumors of a potential departure came to fruition Tuesday.
"Scott and I agreed that moving in a different direction was in the best interest of the program," Rodriguez said in a release. "I appreciate Scott's hard work on behalf of Michigan football the past year. He is a good football coach, a good person and a true professional. We wish him well in the future."
Rodriguez said he would continue to evaluate his staff and review all possibilities before deciding upon a new defensive coordinator.
Shafer arrived at Michigan after serving on former Michigan quarterback Jim Harbaugh's staff at Stanford. He coached cornerbacks in addition to his duties overseeing the defense, one that didn't meet expectations this season despite having several starters returning.
The Wolverines finished 10th in the Big Ten in scoring defense (28.9 points per game), ninth in pass defense (230 yards per game), sixth in rush defense (136.9) and ninth in total defense (366.9). They also tied for last in the conference in takeaways, forcing 20 turnovers while losing 30 to finish last in turnover margin.
Stay with TheWolverine.com for more on this development - and potential replacements - in the hours and days to come.