DeShawn Sims commits to Michigan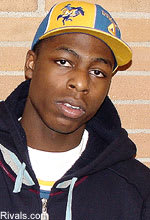 DeShawn Sims
, Rivals.com's No. 39 prospect in the class of 2006, finally ended speculation about his recruitment and committed to his childhood favorite. Rumored to have narrowed his choices to U-M and MSU, Sims pledged to Tommy Amaker and Michigan this morning.
Sims just returned from Chicago, where -- ironically -- he reportedly worked out with former Michigan State star Alan Anderson (now with the Charlotte Bobcats) and Shannon Brown. He pledged to Amaker upon his return.
"That's where I'm comfortable," said Sims, adding he's anxious to play in front of his people.
Sims' commitment could get the ball rolling for the Wolverines. Saginaw Buena Vista's Tory Jackson is expected to make a September decision (with U-M still thought to be the leader, for the time being), while Edmond (Okla.) big man Ekpe Udoh will visit on Labor Day weekend.
"This is a huge get for Tommy Amaker," said Rivals.com's Tim Watts. "He's fighting for those instate recruits and to get one of the elite can only help Michigan's perception with the other kids like jackson and Tom Herzog."
Watch for more from Sims in the hours to come. For exclusive video on him from last fall's state quarterfinal game with Jerret Smith and Romulus, click here:
Jerret Smith
.