Donovan Warren reflects on App. State game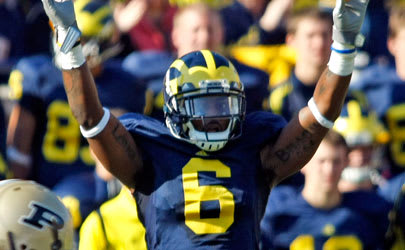 There will be no avoiding the media coverage the week before Michigan's 2014 season opener. With Appalachian State on the docket, highlights (or lowlights) from the 2007 game will be broadcast over and over again.
ASU became the first Division I-AA team (now FCS) to upset a ranked I-A team (now FBS) when it knocked off the fifth-ranked Wolverines 34-32.
It is a day that lives in Michigan infamy, and a day that haunts every Wolverine that wore the winged helmet that season, former cornerback Donovan Warren admitted.
Warren played most of the second half in place of starting cornerback Johnny Sears. A week later, in a loss to Oregon, he started at corner, and he would start 11 games, recording 52 tackles, five pass break ups and an interception.
He has mixed feelings about U-M playing Appalachian State, which will fully be a FBS team this season after making the transition, but notes his strongest urge is redemption.
"My feeling is revenge," he said. "I know those guys [on the current team] didn't play against Appalachian State but I still have a sour taste in my mouth from that game.
"I am talking to some of the guys on the team this year to let them know, 'Don't take this game for granted. These guys are going to come out and compete because they know in their history they can compete with us and that shouldn't be the case at all.
"'Dominate the game, and really come out aggressive and make a statement early on.'"
FCS teams beating FBS teams was rare prior to 2007 but Michigan was one of nine victims that season, and in the six seasons that have transpired since, FCS programs have added 48 more victories, though only two against ranked teams.
Michigan's oldest players, fifth-year seniors Devin Gardner and Will Hagerup, were only 15 years old when the Maize and Blue fell to the Mountaineers in 2007 so the current iteration of Wolverines are far removed from what transpired that day. They may not feel the surge of revenge coursing through their veins, but Warren feels it, his teammates from 2007 feel it, and they will make their emotions known.
"I'm going to make some calls to the guys on the team to get them pumped up and let them know that you don't want that sour feeling to start the season off, especially against Appalachian State," he said.
In a podcast with TheWolverine.com on Thursday, Warren also talked about his decision to leave the program after three seasons. A first-team All-Big Ten performer in 2009, Warren went undrafted and spent two seasons bouncing around the NFL but never playing.
While the decision, in hindsight, drew criticism, Warren would return to U-M to earn his degree in entrepreneurship and started a business in Los Angeles, and he looks at his decision positively.
"For me, the last two seasons that I played at Michigan was very much a transition being that we had a new coach," he said. "Me personally, I felt like I was ready to make that transition and that step to take it to the next level as far as my playing abilities. That's really what it came down to. I felt like I was ready.
"Looking back on it now, it might not look like the best decision to anyone else because I'm not playing still, but it was a very good learning experience because I went from the top to the bottom, and I learned so much, and I am now in a position to help other athletes and educate them on the process.
"That's how I started my company so it's a blessing to be in the position I am in now."