Dylan Larkin headlines four scoring forwards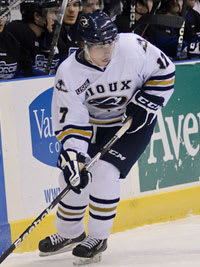 Michigan ranked 19th in the country this past year in scoring offense, averaging 3.06 goals per game, down from seventh and 3.23 goals in 2013. The Wolverines want to be a more capable offensive team and, to that end, signed four talented forwards.
The centerpiece of U-M's six-man class - Michigan also signed two defensemen - is Dylan Larkin. The 6-0, 192-pound Waterford, Mich., native is ranked 17th among North American skaters eligible for this year's NHL Entry Draft.
"He's a world-class skater," assistant coach Brian Wiseman said. "He'll be a high draft pick. He has a good head for the game, great offensive instincts. High IQ.
"He's a local kid and a kid that we're confident will be at Michigan next year. We have watched him for four years and he was always the best out of his age group in the state and we want the best to come here.
"He's a great fit and a great kid."
In 60 games for the United States National Development Team Under-18 squad, Larkin put up 31 goals and 25 assists, finishing fourth on the team in points and second in goals.
"He's a throwback - he gets the puck and goes with it," head coach Red Berenson said. "He can make things happen, but the thing I like is he competes hard, and he's like [sophomore] JT Compher - you notice him every shift.
"He has the offensive skills to be a great player, the speed, and he's continuing to grow his game. He's going to be a good fit. He's a centerman. We'll be strong down the middle this year with [junior] Andrew Copp, JT Compher, [junior] Boo Nieves and now Dylan."
While the coaches will have fun figuring out how to best use their centers, they are also excited to throw Dexter Dancs into the lineup. The 6-2, 205-pound winger is a legitimate power forward, registering 26 goals and 41 assists last year in 56 games with the Vernon Vipers of the British Columbia Hockey League.
"When we recruited Dexter Dancs we knew we needed size. We had lost Chris Brown, Kevin Lynch, and we're losing Derek DeBlois from this year's team, and we didn't have a real physical presence on our roster," Berenson said. "And Dexter will add that to our team. Plus, he's a real good skater.
"He's a good worker, and now his offensive game has been kicking in. We didn't recruit him to score -- we recruited him because of the kind of player he can be. We've had those type of players before that could play physical, play strong, play well with anyone he's paired with, and eventually he got a nose for the net, and I think that's what Dexter will do for us."
Ton Calderone is a 6-0, 208-pound forward from Trenton, Mich., that registered 24 goals and 17 assists in 60 games with the Sioux Falls Stampede of the United States Hockey League last year. He is a natural goal scorer and is expected to compete for a spot on U-M's top-two lines next year.
He has not signed a full scholarship and must enroll in school (later this month) before the coaches can comment on him officially.
The same goes for Alex Talcott, the fourth forward in this class. The 6-1, 198-pound Kentwood, Mich., native scored seven goals with eight assists in 51 games for the Indiana Ice of the USHL this past year.
While Larkin, Dancs and Calderone arrive with momentum and should emerge regulars in the lineup next season, Talcott will likely compete with Michigan's potential healthy-scratch players for a spot on the fourth line.