Former kicker Brabbs valiantly battling cancer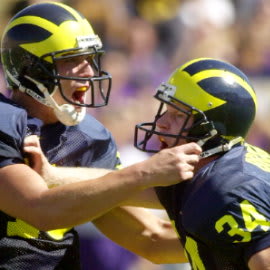 Last we spoke with former Michigan kicker Phil Brabbs, it was for an article celebrating the fifth-year anniversary of his game winning, 44-yard field goal against Washington following two earlier misses in 2002. Not long afterward, the 29-year-old -- one of the more grounded and friendly former Wolverines there is -- received a shock that has changed his life.
Brabbs had no frame of reference to guide him how to react when doctors informed him he had Multiple Myeloma, a cancer of the plasma cells, 16 months ago. After three-plus rounds of chemotherapy (a fourth will be completed Dec. 28), several meetings with doctors and countless stories from friends, former teammates and others who have either battled cancer themselves or had family members who did, he's now up to speed … and more positive and determined than ever in his battle.
"It was kind of an ordeal doing nothing," said Brabbs of the time between diagnosis and treatment. "We're very thankful we have an approach [with our doctors] … we moved back [from North Carolina] because we loved Ann Arbor, loved the University of Michigan, loved Michigan football. Now I've fallen in love with the cancer center and all the staff here."
A staff that went to bat for him when there was only one spot left in a clinical trial for treatment that would otherwise have been outrageously expensive, Brabbs noted, and that is as invested in his battle with the deadly disease as he is.
To date, the entire team has been encouraged with his progress. His four-drug cocktail has led to a 70 percent reduction in the cancer following three rounds of chemotherapy, with the hope that after four rounds, he'll be prepared for the next step of his treatment - a stem cell transplant.
"The clinical trial I'm on says you can go anywhere from four to eight rounds, so ideally after four rounds we have 90 percent reduction in the cancer and we move on to transplant," said Brabbs. "Then the idea is if you get to the point where it's [gone], you monitor the numbers every three months and the thought - and it's a new thought - is that in five or six years, if you're still humming at zero, maybe it won't come back."
The great majority of specialists, however, still feel even Brabbs' aggressive treatment plan isn't a cure, but a better approach for a longer-term remission, even with the transplant. Most patients usually relapse within five to seven years, at which point the treatment starts all over again.
Brabbs' age is working in his favor. While most Multiple Myeloma patients are older, though, and don't have as much to lose, he's battling for the best years of his life.
"Most people are in their 60s. They're not looking to prolong an extra 50 years of life," he noted. "We're in a really different situation Being at U-M where they're specializing both on the research side and the clinical side, they have access to novel drugs. The trial I'm on they are throwing a fourth drug on the combination. Before it was three drugs working great, but now it's four, and we're even looking possibly at two transplants.
"Even after chemo, the cancer could appear to be gone, but there might be stuff they can't see. Statistics are showing that if you do a tandem transplant, back-to-back over a four-month period, you might even drive that thing out for 10 years. In some cases it may even be a possible cure and it will never come back."
That, of course, is the ideal scenario for a man with so much to live for, including a family that includes two young kids (Ocean, 4 and Iris, 2) and another baby girl on the way in April. With his upbeat outlook, it also seems to be what he expects.
"When you're first diagnosed, it's a huge curveball," said Brabbs. "You go Google it and you're like, dang, five years if you're lucky? [The prognosis] has changed since then, but we've got a lot going on personally … a new child on the way.
"But a social worker told us that for every tick, there's a tock. I feel that. I've had some difficult side effects of chemo, but after projectile vomiting for 12 straight days and six more not eating, I got through that. Now I'm back to eating, and I'm more appreciative. Meals are showing up on our doorstep prepared for us."
It's been humbling, he said graciously. From watching neighbor women twice his age shovel his walk when he didn't have the strength to the outpouring of support he's received sharing his story on his blog, he's had help dealing with an adversity that goes beyond missing a few kicks in front of 100,000 fans.
"For every downturn, there's an upturn," he said. "For every tick there has been a tock. The support has been amazing, more than I could have imagined."