{{ timeAgo('2021-04-08 14:54:45 -0500') }}
basketball
Edit
Franz Wagner's Stock Continues To Skyrocket In Latest NBA Draft Projections
Although Michigan Wolverines basketball sophomore guard Franz Wagner hasn't announced his future plans yet, he is heavily expected to depart Ann Arbor and head to the NBA Draft.
The Berlin, Germany, native averaged 12.5 points, 6.5 rebounds and 3.0 assists per game this season, while playing 30.4 minutes per contest.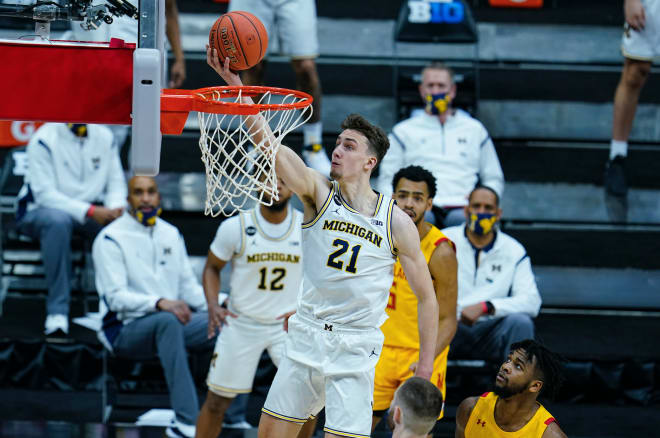 He was also an excellent free throw shooter (83.5 percent), but it was his defensive prowess that oftentimes wowed the fan base in 2020-21. Wagner's 1.3 steals per game were tied for the fifth most of any player in the league, while his 1.0 block per outing was the most of any guard in the Big Ten.
NBA clubs and draft analysts have taken note of his accomplishments as well, and that was evident today in two mock drafts that were released by two of the biggest publications in sports.

ESPN and CBS Sports not only projected Wagner to go in the first round of July's NBA Draft in the projections they released today, but both had him coming off the board within the first 15 picks.
The mock draft that ESPN's Jonathan Givony and Mike Schmitz released was higher on Wagner than CBS Sports' version, with the experts pegging him at No. 9 overall to the Sacramento Kings.
They had him as the highest Big Ten player being selected, and just one of two players from the league going in the first round (Illinois junior guard Ayo Dosonmu was the other, at No. 22 to the New York Knicks).
Givony and Schmitz did not provide a writeup on their projections. It's also worth noting they pegged senior forward Isaiah Livers to come off the board midway through the second round, at No. 47 overall to the Brooklyn Nets.
CBS Sports' Kyle Boone, meanwhile, had Wagner going No. 15 overall to the Charlotte Hornets in the mock draft he released this morning. Unlike Givony and Schmitz, Boone provided a writeup.
"Probably not a future All-Star, almost certainly a high-level role player -- that's the selling point for Franz Wagner," Boone explained. "At Michigan as a sophomore this season he did a bit of everything, from hitting 3-pointers to creating to playing top-shelf defense.
"He does so many different things at a high level it's easy to see why teams would like him in this range. There's an obvious role for a 6-9 forward who can do all of those things -- and well -- at the NBA level."
Boone also had Wagner as the highest selection from the Big Ten, with Dosonmu (No. 17 to the Boston Celtics) standing as the only other player from the league going in the first round.
The CBS Sports analyst's projections only entailed the first round, and unsurprisingly did not include Livers. The 2021 NBA Draft will be held July 29 in Brooklyn, N.Y.