Gardner to commit to Michigan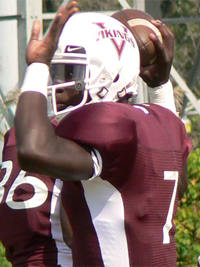 Inkster, Mich., quarterback
Devin Gardner
will soon become Michigan's fourth commitment for the Class of 2010, Inkster head coach Greg Carter told TheWolverine.com today. Arguably the state's top signal-caller, Gardner will make it official soon … 
"He told us that he was going to commit to Michigan," stated Carter. "He's an outstanding player. He was one of the best quarterbacks last year in the state of Michigan and we expect him to get even better next year. He's versatile and he fits that offense perfectly. He can throw the ball and he also can run the football. So I think it's a good choice for him."
The 6-4, 195-pounder is considered one of the best prospects in the state of Michigan for the Class of 2010. He was named to The Detroit News all-state first team after leading the Vikings to the state finals (runner-up).
He will become the second member of the Inkster squad to join the Wolverines in as many classes, following 2009 signee Cameron Gordon. While having the chance to continue throwing to his wide receiver teammate in college may have helped Michigan to land Gardner, his coach feels there was much more to the decision making process.
"It probably had something to do with it," said Carter. "They're good friends and they're a great combination together. But more than that, it's about what Michigan can provide him. He's going to get a quality education. He's going to be close to his family. You have to consider a lot of things when you're making a choice, so he sat down and he really thought it over. I guess he thinks that's just the best spot for him."
While Gardner is best known for incredible athletic ability, Carter feels that his abilities on the football field extend beyond his skills as a runner.
"He did outstanding last year and he got better," Carter noted. "It's something that he has to continue to work on, but he's not just a running quarterback. He can throw the football. He throws deep footballs very well. Of course all quarterbacks have to continue to work on their accuracy.
"Of course, all young quarterbacks have to continue to improve. They have to continue to get better in reading coverages and getting rid of the football and just making decisions, but the sky is the limit for him.
"We didn't throw the ball very well in the championship game, but that game didn't indicate what kind of passer Devin is."
In 2008, he completed 98 of 170 passes (57.6 percent) for 1,886 yards, 26 touchdowns and seven interceptions. He rushed for 1,401 yards and 22 touchdowns on 115 carries.