GLI could do wonders for Wolverines confidence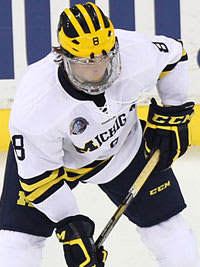 For a team that enters this weekend's Great Lakes Invitational 6-9-2, last putting together back-to-back wins in late October, the GLI takes on added significance for the Maize and Blue.
"We haven't had much winning, and I think a chance to win something is really important," head coach Red Berenson said. "I think we have a chance to get something going, and to win the GLI, it's not the Stanley Cup, but it's something. It's a lot more than anything they've done so far this year."
Michigan will enter Saturday night's semifinal against Michigan Tech with as much momentum as it has had in weeks, finishing off the first half of the season with an impressive 2-0 victory over Western Michigan Dec. 15. The Wolverines could see the Broncos again this weekend if WMU edges Michigan State and U-M bests Tech, but first things first - beating a Huskies team just as desperate for success after going 4-10-3.
"That first game is so important, just to give yourself a chance because you know you'll play better in the second game," Berenson said.
Michigan has won each of the past two Great Lakes Invitational tournaments and has captured four of the last five (winning in 2007, 2008, 2010 and 2011), putting together a nice run after going a decade between titles.
"We take a lot of pride in winning this tournament," senior captain A.J. Treais said. "Every year we set team goals and this is one of the goals each year, winning the GLI, right up there with winning the league, winning the tournament and making an NCAA run."
U-M will have to make due without one of its best players, freshman defender Jacob Trouba, who is playing for Team USA in the World Junior Championships. Junior defenseman Jon Merrill is skating for the first time since suffering a cracked vertebrae Oct. 9 in an exhibition game, but he will not play this weekend.
With the two out, the Wolverines will have just six healthy defensemen, and senior forward Jeff Rohrkemper will transition to the blue line if needed.
Michigan had a difficult return to the ice earlier this week, many of the Maize and Blue missing Wednesday's practice due to issues related to the snowstorm that engulfed the Midwest. The Wolverines looked a tad sharper following their second of two practices on Thursday and had two more today before finishing with a light skate Saturday prior to the 7:08 p.m. game time.
Berenson has not made a decision on which goalie he will play. Junior Adam Janecyk won his first career contest, appearing in his first game this season when U-M blanked Western, but he didn't exactly wow in Thursday's two sessions.
"I can't tell you that he hasn't practiced well and I can't tell you that he has," Berenson said. "He's like everybody else, trying to get back in the groove. I'm hoping to see something special [Friday]."
Whoever is in net, Michigan is hopeful it took a step forward two weeks ago against WMU and can continue to play like that team - a team capable of putting together a dominant second half.
"When you're going into a tournament of this caliber, winning can be a pickup for your team, and kick start your team," Treais said.
Notebook
Merrill has a doctor's appointment Jan. 2, at which time he will be re-evaluated. If he is cleared for full contact, it is probable he could return to the lineup when U-M hosts Bowling Green Jan. 8.
Regardless of his return, the junior is already making an impact.
"I think our players look up to him a lot because of his skill set, what he's done here, and what he's gone through; they sense how much he'd like to be playing," Berenson said. "And you have to think he's helping our team in practice just by his presence."
Treais had a big grin when asked about Merrill being back on the ice, and is excited about the prospect of his eventual return to the lineup.
"You saw last year when he came back we were a whole different team," Treais said. "He's the kind of player that can change a team."