Goalie Jared Rutledge shelved temporarily with eye issue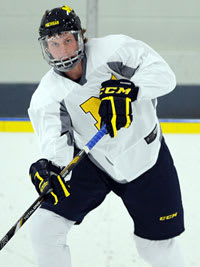 Freshman Jared Rutledge was brought in to be Michigan's starting goalie this season, but dealing with an eye issue, the rookie netminder will not start Sunday's intrasquad and may not be ready for the exhibition opener Tuesday.
"I can't tell you what he had but he had some problem with his eye when he had his eye tested," head coach Red Berenson said Wednesday. "They fixed it and so he'll see the doctor [today] and should start taking shots.
"But he'll be behind a little bit."
A veteran of the U.S. National Development Team Program for two years, the 5-11, 176-pound Rutledge came to the rescue for the Wolverines in the fall of 2011 after goaltender commitments Jack Campbell and John Gibson backed out on U-M pledges (and in Gibson's case, a signed letter of intent).
"I wouldn't say he fell into our lap, but the timing worked out for Jared and for us," assistant coach Billy Powers said. "We liked him, liked his potential and his pedigree - he has always been the go-to guy since he was 15 - but he had a choice to make, and fortunately he was interested, and we were able to fill that goalie spot we needed."
However, Rutledge will have to wait for his opportunity, and three netminder teammates - junior Adam Janecyk, sophomore Luke Dwyer, and freshman Steve Racine - will look to capitalize on his absence.
"Janeyck has the most experienced, and Racine looks pretty good, but he was coming in with a little bit of a baggage surgery he had this summer so he's just starting to get to 100 percent ... but he looks pretty good," Berenson said. "And then Luke Dwyer is like Shawn Hunwick. He's supposed to be our backup backup, but you never know. So you'll see all three of them on Sunday."
Rutledge could be back in time for Michigan's opening series against RIT Oct. 11-12, but that will be a discussion for early next week.
"I'm not the eye doctor but when he gets on the ice we'll see how he looks," Berenson said.
In the meantime, and even when Rutledge returns, the Wolverines expect to ease the burden of their starting netminder, believing a defensive corps that returns seven blue liners from last season, and welcomes first-round NHL Draft pick Jacob Trouba, should carry this team.
"Our top six is loaded with talent and great players, and we're going to challenge ourselves to be the best D-corps in the country," senior defender Lee Moffie said.
"Do we have to be the best? I don't know that we have to be but we're striving to be ... because it will help our team."
Notebook
The 6-2, 195-pound Trouba, who will begin the season paired with junior defenseman Jon Merrill, has been the most impressive freshman in early practices.
"He's a great hockey player," junior defender Mac Bennett said. "He has a really high hockey IQ. I think you're going to see him destroy guys, kind of like Greg Pateryn last year. He'll make a big hit in center ice. There have been a few times in practice where he literally could have killed his teammates but he backed off. So when we let him loose against another team you'll see exciting hits.
"But other than that he skates well, he's responsible defensively, and he's smart with the puck, so I would look for him to be an eye opener."
Head coach Red Berenson also cited Trouba as the rookie with the greatest potential to contribute, and won't make any promises after that.
"I would tell you Boo Nieves was drafted and he'll be a great college player at some point - it may or may not be this year," Berenson said. "I think Justin Selman and Daniel Milne are good players and unknowns. Depends how much ice time they get. They might be really good.
"Last year I couldn't have told you Alewx Guptill was ready for this, but he had seven goals by Christmas and then took off after that. You never know. The only one I'm sure of is Trouba. Trouba is ready."
Senior center A.J. Treais, Moffie and Bennett are all first-time captains, with Treais wearing the 'C.' He's adjusting to his new role.
"As far as on the ice, I'm going to bring the same game - I'm going to try to step up and make big plays for this team and pick them up when they need it," he said.
"I'm not a rah-rah guy. I kind of follow the steps of Luke Glendening. He was one of my good friends and he was just an even-keeled guy. He didn't need to yell at you but when you needed to be put in place, he did it."
Moffie is louder while Bennett is a happy medium, noted Berenson, who is really pleased with Treais so far.
"A.J. right off the get-go ... he's taking it on on the ice. He's a little bull out there. He's a different player. Whether it's a sense of being a senior or being a captain, but I notice a big change in him on the ice. He has that quiet confidence.
"Moffie is more outgoing, gregarious, and even outrageous at times. He'll have his best year too. A.J. is quiet, Moffie is not quiet and then Mac Bennett is in the middle. He's ready to have his best year as well. He's a good balance.
"I think it's a nice combination of personalities and players."
Construction workers were still finishing up at Yost Ice Arena on Wednesday in preparation for Sunday's grand opening (intrasquad game at 5:00 p.m., AHL exhibition game planned for 7:00 p.m. and featuring Glendening on the Grand Rapid Griffins), but the old barn looked sharp.
"It's beautiful," Moffie said. "They did a great job keeping the tradition but also making it one of the nicer facilities in the country. The lighting is night and day. You honestly feel like you're outdoors when the natural light is coming through."
Michigan has been voted the preseason No. 1 team in the CCHA by the league's media, and No. 2 by the coaches, while The Hockey News has named U-M the nation's top-ranked team.
"It's good to be honored in that way and respected by people but we'll never know until we show up for the first game, and the only ranking that matters is the one at the end of the season," said Treais, speaking like a true captain. "We respect that ranking but we're not going to get high on ourselves."
Merrill was named preseason All-CCHA first team, with Guptill and Moffie named to the second team, and Treais an honorable mention pick.