Greg Banks makes his announcement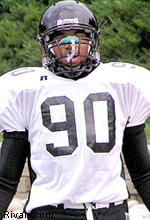 Denver (Colo.) Montbello defensive end
Greg Banks
does not say much, but when he does it's speaks volumes, at least to Michigan fans. The 6-5, 260-pound prospect took an official visit to Ann Arbor two weeks ago and had been rumored close to committing then. He made it official Thursday night, one day short of his birthday.
A three-star prospect, Banks made the commitment to Michigan on CSTV Thursday evening. He becomes the Wolverine's 13th commitment in the class of 2007 and fifth prospect to make a commitment since Michigan played Ohio State in their season finale Nov. 19.
The commitment to Michigan does not come as a shock. He had been telling fellow official visitors on his trip to Ann Arbor the weekend of Dec. 2 that he would have committed then if his parents were with him. They were not, so he went home and discussed it with them. In the course of that discussion, they decided that another official visit, to Cal, was necessary and he took that trip the following weekend.
Colorado was once thought to be Michigan's stiffest competition for Banks, but the dismissal of head coach Gary Barnett had to play to the Wolverines' favor. Banks was not available for comment following his trip to Cal, but his head coach, Oliver Lucas, said he enjoyed it. Following his official visit to Michigan, though, Lucas said Banks was raving about his trip.
"He had an excellent, outstanding trip and he feels really good about the Wolverines," Lucas said last week.
Banks is rated as the No. 38 strongside defensive end and the No. 6 prospect in the state of Colorado. He is the Wolverine's first defensive end commitment and third defensive line commit in this class.