Griese-Hutchinson-Woodson golf outing raises $1.3 million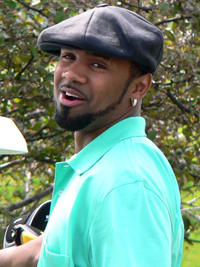 For the past six summers, former Michigan football greats Charles Woodson, Steve Hutchinson and Brian Griese have hosted a charity golf tournament to raise funds for Mott Children's Hospital.
Every year, they're surprised at how big the event has grown. This year's tournament, held Sunday at the U-M Golf Course was so big, some golfers played down the street at Ann Arbor Golf & Outing.
The tournament raised $1.3 million dollars for the hospital.
"The people at the hospital are some of the best at what they do in the country," Griese said. "And what they do every day is save lives. It wasn't hard for Charles, Steve and myself to put whatever resources and energy we had behind this, and get as many guys as possible back for a reunion with a cause."
But working with Mott is nothing new for the dozens of former players who returned to Ann Arbor for the weekend.
The C.S. Mott Children's Hospital has been in operation since 1969, and the Wolverines' football team has helped out for decades. Former Michigan coach Lloyd Carr made it a big part of the team's bonding experience, and soon guys were volunteering to spend time with the children every week.
"It's great. It's something that we started when we were in college, and it's great to continue it, to see this many guys come back and support the children in the hospital and make their lives a lot better," Former quarterback Chad Henne said. "It makes you feel good."
"I look forward to this even every year," added Jake Long, Henne's old teammate. "It's such a great cause, raising money for the hospital. Because those kids and those families deserve it.
"It was something I always enjoyed doing. From day one, Coach Carr was the one who instilled it in the freshmen, and I just loved it. You get to go there, and spend a few minutes with theses kids. They're going through surgeries and illnesses, and we get to go there and brighten up their day for a couple minutes."
For many players, the team's involvement with Mott was an introduction to philanthropy.
"You always say to yourself, 'Be a part of something bigger than you.' And that's what this even it about," former quarterback John Navarre said. "I went up there all the time from freshman to senior year. We did a lot of things about there: Halloween events, Christmas. We had a little bit of free time - as much as an NCAA student-athlete's time is always booked, we did have some free time. And I always enjoyed spending it with those kids."
All the players appreciated new Michigan coach Brady Hoke's involvement with the tournament. Hoke played on Sunday and, as an assistant under Carr from 1995-2001, he learned how important the Wolverines' relationship with the hospital is.
"It's so special for our kids. It's special for the young men and women of Mott. Even for the doctors and nurses," Hoke said. "And to see the unbelievable things they do, it's special. It's fun to be a part of it.
"Our former players' dedication and support for Mott has always been exciting. And just to be around them - these are some of the best guys to come out of Michigan. So it's always nice to come out for this event."
"It's really special," added Steve Breaston. "We benefit from the jobs we have, and it's nice to give back to a meaningful cause. We're never forced to do this stuff. It's great to see all these guys come back and do things like this."