Hoops: Transfers looking at Michigan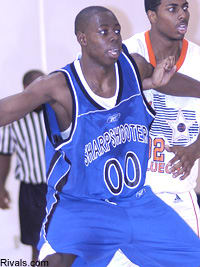 The appeal is evident – a great school and a team laced with upperclassmen who plan to win next year, followed by potential playing time the following year. It's the reason why Michigan has become a potential next step for a number of transfer prospects, including one big one.
Eric Boateng
from Middletown (Del.) St. Andrew's School, finished as the number 82 player overall in the class of 2005 and signed with Duke, spending most of his freshman year on the bench before declaring he'd transfer. Boateng, 6-11 and 255 pounds, has already visited Arizona State and reportedly enjoyed his visit. He plans to visit U-M (this weekend), George Washington and Notre Dame before deciding.
Boateng, a McDonald's All-American originally from England, is better defensively than offensively. He played in 20 games last season for the Blue Devils and averaged 0.7 points and 0.6 rebounds in 2.5 minutes per game.
Meanwhile, still more buzz about Rutgers big man Zach Gibson, former teammate of U-M signee
K'len Morris
. It's likely Eastern Michigan or Michigan for Gibson depending on what happens with Boateng … Gibson played in 10 games for Rutgers a year ago but showed flashes of his potential.
Finally, Iowa State's
Farnold Degand
, a 6-3 point guard, could be a Wolverine. He told GoCyclones.com Michigan, Massachusetts, Notre Dame and Rutgers were after him after he announced his intentions to leave ISU. He redshirted for the Cyclones last year.
"Those are great environments and really prestigious schools," Degand said. "You graduate from those schools and your diploma has a little more oomph to it.
"The lure to play in the Big Ten (at Michigan) is big, though there would have to be something special about those schools to make me consider them more than those East Coast schools. The Big East was a major part of college basketball for me growing up."
Degand, slated to be the starter at Iowa State next year, is an excellent ballhandler and floor general. He was only 16 years old when he graduated high school after averaging 17.3 points, 8.0 rebounds and 5.1 assists as a senior. He was a Boston City All-Star and a Boston Globe and Boston Herald All-Scholastic team member, was a 1,000-point scorer in his career and played AAU basketball for Leo Papile's BABC squad, Courtney Sims' former team.
"They are real interested," Degand said of Michigan. "The situation looks great for me - the possibly to play a lot if I do what I have to do."
Watch for more on these potential developments in the days to come ...