Hot Shooting Leads Michigan Basketball Past Maryland, 87-63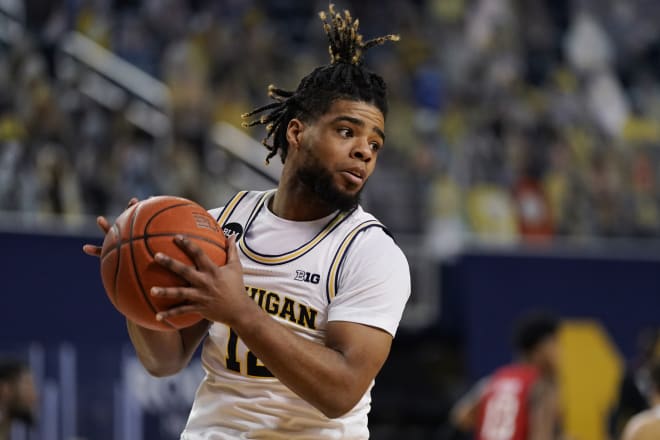 First Half
Michigan senior guard Eli Brooks got the starting nod, after missing the last game with a strained foot.
Wolverines' sophomore wing Franz Wagner got things going with an off-glass layup on Michigan's first possession. The next trip down, freshman center Hunter Dickinson found fifth-year senior guard Mike Smith for an open triple at the top of the key, which he knocked down to give U-M an early 5-0 edge.
Smith tripled again at the 16:39 mark, and Michigan led 8-0. Another Smith deep ball made it 11-3 at 15:57. He began the game 3-of-3 from long range in the first four minutes of action.
Two-straight threes from Michigan senior forward Isaiah Livers gave the Wolverines a 17-3 advantage at 14:15. Michigan started out 6-of-10 from the field and 5-of-5 from three-point range. Maryland, on the other hand, began the game 1-of-5 with four turnovers.
The score was 17-7 at the under-12 media timeout. Michigan was on a 2:32 scoring drought at that point, but just out of the quick break, Wagner nailed two free throws to give the Wolverines back a 12-point lead.
At 7:13, Michigan led by a score of 26-14. The Wolverines cooled off for a stretch, but were still shooting 50 percent at that point. Maryland sophomore forward Donta Scott began heating up, nailing a long two and a three, both over Michigan fifth-year senior forward Austin Davis.
Michigan led, 32-21, at the 3:02 mark of the first half. Michigan made just one of its last six attempts at this point.
Dickinson had been held scoreless, with Maryland bringing double-teams on many of his post touches. He had one assist and no turnovers, however, and kept the ball moving.
Michigan senior guard Chaundee Brown splashed home a three with two minutes until halftime, giving the Wolverines a 14-point lead.
Wagner nailed a triple in the right corner with seconds remaining on the clock, to give the Wolverines a 42-25 lead at halftime.
Smith had a game-high 11 points at the half, while Wagner contributed nine points and Livers eight. The Wolverines shot 8-of-14 from long range, and that was a huge reason for the 17-point edge. So was the defense, with Maryland shooting only 38 percent from the field with six turnovers.
Brooks got Michigan going in the second half, nailing a three from the right corner to extend the lead to 20 on the Wolverines' first possession. Maryland junior guard Aaron Wiggins had an and-one runner in the lane as an answer a couple possessions later.
Following a Maryland senior guard Darryl Morsell bucket in the lane, in which he felt he drew contact and deserved a foul call, he complained to the officials, as did head coach Mark Turgeon. Both were given technical fouls. Livers nailed all four free throw attempts at 16:24, but the Wolverines were called for an administrative technical of their own. Morsell hit the one free throw and it was 55-34 at 16:24.
Michigan held a 62-41 lead at 11:42. Livers connected on both of his triple tries in the half, and Michigan's hot shooting continued. The Wolverines were hitting on 11-of-20 from long range at that point, and answered just about anything the Terrapins did offensively.
Brown hit a three at 9:06 to give the Wolverines a 70-47 lead. That was the 12th made long ball on 21 attempts for the night. The Wolverines had just 20 points in the paint at that point, with the three keeping them ahead by a large margin.
Maryland battled back and made it 72-54 at 7:41. The Terrapins had hit on four of their last five attempts at that point, with junior guard Eric Ayala hitting a three, which forced Michigan head coach Juwan Howard to call timeout.
A Wagner dunk on a fast break made it 80-56, Michigan, with 5:22 left on the clock. Those were Wagner's 13th points on the night.
Howard emptied the bench at the 2:45 mark, with the Wolverines controlling the game and having a 82-61 lead.
87-63 was the final score. Michigan shot 52 percent from the field and 50 percent from three, while Maryland was 41 percent and 21 percent in those categories, respectively. The Wolverines were led by Livers with 20 points and Wagner with 15, while Maryland saw Scott lead the way in scoring with a team-high 13 points.