Its Rodriguez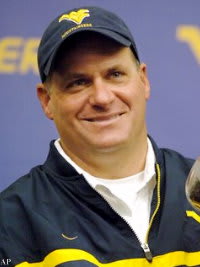 Months after Michigan athletic director Bill Martin took head basketball coach John Beilein from West Virginia, U-M raids the Mountaineers' coaching cabinet again. Rich Rodriguez will be the Wolverines' next football coach.
In an early afternoon meeting with his football team, Rodriguez announced he was leaving to become the head coach at Michigan. He walked into a scheduled 1:30 p.m. meeting with his team and emerged 10 minutes later without comment.
Sources told TheWolverine.com Rodriguez met with West Virginia athletic director Ed Pastilong twice yesterday, with WVU officials feeling good about their chances of keeping their coach. However, the same sources also acknowledged that Rodriguez's agents continued to negotiate with Michigan following a Friday meeting in Toledo, Ohio between Rodriguez, his financial advisors, Martin and U-M president Mary Sue Coleman.
Rodriguez made nearly $1.8 million this season and had a $4 million buyout in his contract. The terms of his contract are not yet clear; nor is it evident who will coach West Virginia in the Fiesta Bowl against Oklahoma.
Rodriguez, 44, is a fiery coach who has won at least 10 games in each of the past three seasons. The Mountaineers would likely be playig for the national championship had they not been upset by Pitt in their final game of the year. He's been a coordinator at both Tulane and Clemson and a head coach at both Glenville State and West Virginia (since 2001), boasting a 60-26 record for the latter.
Former Michigan player and coach Les Miles, now the head coach at LSU, was considered the frontrunner for the job when Michigan head coach Lloyd Carr retired and had spoken with U-M officials within recent weeks. Rutgers head coach Greg Schiano was the only candidate believed to be a serious option, meeting with Martin for five hours in New York several days ago before taking himself out of the running for the job.
According to WVSports.com, after Rodriguez told the team of his intentions, he left with his wife, Rita, and children, Rhett and Raquel. Rodriguez, his family and agent Mike Brown sequestered themselves in the former West Virginia football coach's office for about an hour after the team meeting.
At about 2:40 p.m., the Rodriguez's came out of the office into the lobby and down a corridor where they exited before driving away without comment.
"I'll say this," said Brown. "We've had the seven great years here and he is leaving the program better than he found it."