Jess Speight Will Join Brother Wilton At Michigan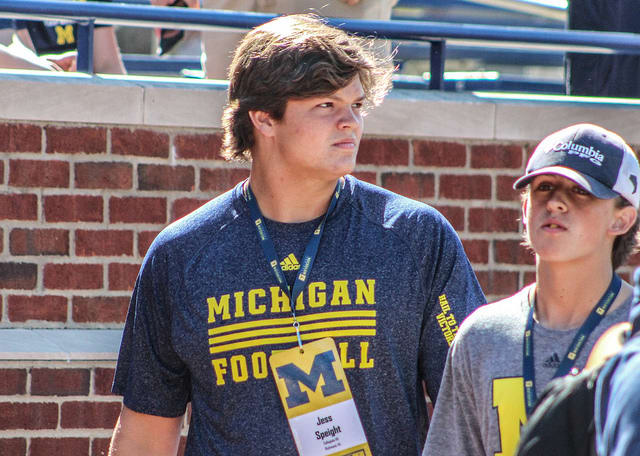 It's been a few days now but Richmond (Va.) Collegiate offensive guard Jess Speight has committed to Michigan as a preferred walk on. Whenever a prospect goes the PWO route it doesn't get a lot of attention but given the fact that the 6-4, 280-pounder is the younger brother of Michigan's starting quarterback Wilton Speight, this situation is more unique than usual.
As is to be expected, both Jess and Wilton were excited about the development.
The younger Speight picked up what turned out to be a preferred walk on offer this summer after camping in Ann Arbor and impressing offensive line coach Tim Drevno.
"During individuals I performed well," Speight said of his summer performance. "We did some agility and circuit drill stuff to show our athleticism and I did pretty good there too. We had one-on-ones and I played left and right guard. I also did a little bit of center but I didn't do as good there. I've never played center in my life but I wanted to try it out and show my versatility. I think that impressed the Michigan coaching staff."
The Speights are legacies at North Carolina State because of their grandfather, Bobby Speight. Grandpa Speight was an All-American basketball player at N.C. State, scoring nearly 1,500 points in three seasons with the Wolfpack. His No. 80 jersey hangs from the RBC Center rafters and the lobby of the program's basketball practice facility is named after him. Bobby Speight's daughter Elizabeth was the first female scholarship athlete at N.C. State and played basketball for Hall of Fame coach Kay Yow. This of course led many to believe that Jess would end up as a part of the Wolfpack but Jim Harbaugh, Ann Arbor, and big bro were all too much to turn down for the versatile lineman.
"Ever since Wilton was there I've paid close attention to them obviously," Speight said of Michigan. "I've always been interested in them pretty much since they recruited Wilton. Whether they knew it or not they were pretty much recruiting me too. They didn't know how big I was going to be or anything but I was a part of all of that. I got to come out of the tunnel before some games when I was younger and I've had an idea about the program from a very close point of view. I really admire the whole school and program and have for about three or four years now."
Speight is excited to be a part of the Michigan football family and plans to attack his career at U-M the same way Wilton did — with an enthusiasm unknown to mankind.
"My commitment made for a pretty eventful Thanksgiving," Speight said. "I committed as a preferred walk on so I'm just going to go up there and earn it."
Speight turned down a full-ride scholarship from N.C. State for the opportunity to be a Michigan Man. He's fully confident in his ability to earn a scholarship down the road. He also had several lower-level offers from schools like Richmond, James Madison, Old Dominion, and William & Mary.