Jim Harbaugh a Top 3 coach in CFB according to Pro Football Focus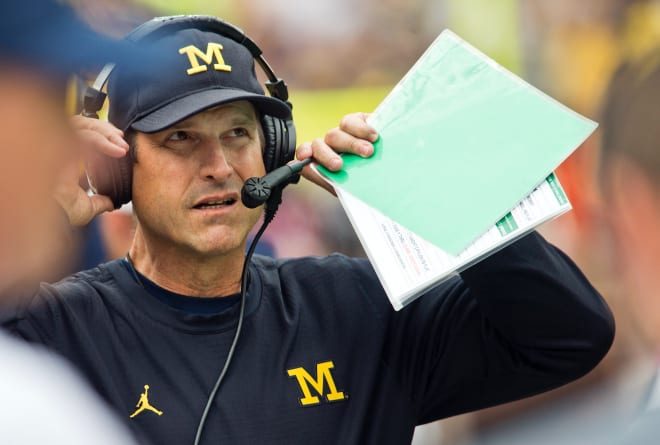 With Michigan finding its swagger, so does the hype surrounding head coach Jim Harbaugh. A few short years ago, Harbaugh's name seem to be falling down the list of top head coaches in college football.
Fast-forward to the present, it doesn't take long to find Harbaugh's name on any list with the Wolverines flying high.
According to Pro Football Focus, which released its list of top head coaches in college football, Harbaugh rounds out the top three in all of college football by joining Nick Saban (number one) and Kirby Smart (number two).
Here's what PFF had to say about where it placed Harbaugh:
Harbaugh has led Michigan to back-to-back Big Ten championships and College Football Playoff appearances. Perhaps more importantly to Wolverines fans, they've also beaten arch-rival Ohio State twice in a row. Before that, the last time Michigan won the Big Ten was in 2004 and the last time the Wolverines beat the Buckeyes was in 2011.
The next step for Harbaugh is to bring home a national championship to his alma mater. With one of the best rosters in the country next year, there's a good chance he'll do so.
Elsewhere in the Big Ten, Ohio State's Ryan Day is ranked No. 7, Wisconsin's Luke Fickell is ranked No. 9 and Penn State's James Franklin rounds out the top 10 at number 10.
---
Discuss this article with our community on our premium message boards
Not a subscriber to Maize & Blue Review? Sign up today to gain access to all the latest Michigan intel M&BR has to offer
Follow our staff on Twitter: @JoshHenschke, @Berry_Seth14, @TrevorMcCue, @DennisFithian, @BrockHeilig, @JimScarcelli, @lucasreimink, @JaredHalus
Subscribe to our podcasts: Apple Podcasts, Google Podcasts and Spotify
Check out Maize & Blue Review's video content on YouTube
Follow Maize & Blue Review on social media: Facebook, Twitter, TikTok, and Instagram