Keys To The Game: Michigan Wolverines Football vs. Nebraska
Don't miss out on any of our exclusive football, basketball and recruiting coverage. Click here to get your 30-day free trial!
We didn't know heading in, but SMU proved to be a very good tune-up for Michigan's Big Ten opener with Nebraska.
The similarity in the quarterback situation is the first thing that comes to mind. SMU's Ben Hicks and Nebraska walk-on Andrew Bunch are essentially the same guy, while Mustangs back-up William Brown did his impression of 'Huskers frosh Adrian Martinez in the second half against Michigan.
Brown showed a lot of moxie in the last 30 minutes against the Wolverines, and though he benefited from a handful of sketchy pass interference calls, he was able to move the ball against U-M's stingy defense and escape the pocket a few times for nice gains.
If Martinez plays — he sat out last week's loss to Troy with a knee injury suffered in the opener with Colorado — he'll be in a similar situation Brown was last week, looking for yardage any way he can get it. We expect the Michigan defense to be much more focused for the opener, but there's no question Martinez is capable and a rising star in the Big Ten.
Here are keys to a Michigan win over Nebraska Saturday:
Make Nebraska quarterbacks uncomfortable and take advantage of a suspect Cornhuskers line: These go hand in hand, obviously, but the latter is a mismatch for the Michigan defense. The 'Huskers had a tough time with Troy last week, allowing three sacks, and some of the pass protection was laughable. Case in point:
It wouldn't be surprising to see both quarterbacks play Saturday against Michigan. The Nebraska coaches have said they don't want to put Martinez in harm's way if he's not 100 percent, thinking about his (and the team's) future against an active and aggressive defense, but don't think for a second head coach Scott Frost doesn't want this game badly. Martinez is expected to play, and we expect the 'Huskers to pull out all the stops.

It's on the Michigan defense to put the frosh in bad situations. As good as Martinez is, expecting him to come in and move the ball on the road in a hostile environment against an aggressive defense that shows so many different looks is a stretch.
Keep Martinez in the pocket and finish on third down: The latter wasn't a problem last year when the Wolverines led the nation in third-down defense, but it's been an issue so far this season. We had to scroll to page two to find the Wolverines in the rankings this year — they're 57th, allowing 34.8 percent — and while they've often been in position to get off the field on third-and-long (Notre Dame, for example, averaged almost nine yards to go on third downs in the opener), they haven't finished.
Irish quarterback Brandon Wimbush and SMU's Brown both had success escaping the pocket when plays broke down and ran for good yardage. Brown even picked up 25 yards on a third-and-16 when U-M's defense lost contain on the outside. There will be room for Martinez in the middle of the field (or to the outside) if the defense doesn't handle its rush lane responsibilities better.
Protect quarterback Shea Patterson: While offensive line coach Ed Warinner praised his group recently for only being responsible for a few sacks this year, it would have been a lot more had Patterson not pulled a Houdini to escape pressure a few times. He was dead to rights twice last week before escaping to make something out of nothing, but that needs to be cleaned up.
The running backs, too — those not named Tru Wilson — need to do a better job picking up blitzers, especially junior Chris Evans. Patterson is deadly when he has a clean pocket and time to throw.
Nebraska boasts a solid front seven and is very aggressive with its schemes. The Cornhuskers have sacked opposing quarterbacks 10 times in two games (that's five per game for you non-math majors) and will come after Patterson. He needs to make solid decisions with the ball when he's under duress, which he will be at times in this game. Turnovers are one way to keep an 18-point underdog in a game.
The Breakdown: This will be a great matchup in future years, and we'll see a lot of it. The Wolverines and Cornhuskers are set to square off four straight years in the early 2020s, and Frost and Michigan head coach Jim Harbaugh both have a lot of pride in winning for the university for which they played.
This year, though, it's a mismatch, assuming Michigan takes care of business and cleans up some of the assignment mistakes it made up front a week ago. Many lamented the play calling, but missed assignments were as much to blame as anything on plays that didn't work.
Patterson is the key for this Michigan team, and if the line can't protect for him, the staff needs to find other ways to turn him loose, whether it's more run-pass option (RPO) or moving the pocket. But this will be a solid test to see what the concentration level is now that we're in Big Ten play and could tell us a lot about this team.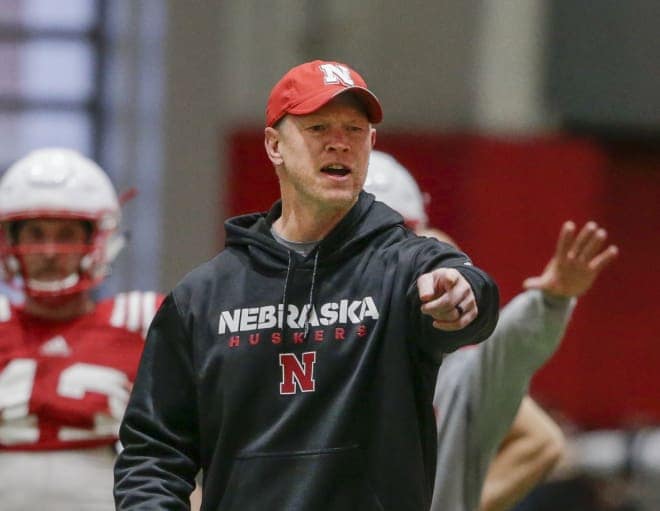 TheWolverine.com Staff Picks
TheWolverine.com Senior Editor Chris Balas: Michigan 28, Nebraska 17

Nebraska is still asking some guys to 'buy in,' a bad sign three weeks into the season. There are some on the Michigan side that need to elevate their games, too, and play with the same urgency as others before them who wore the uniform.
U-M is still a work in progress, and Nebraska isn't good … but not as bad as people think.
The Wolverine Senior Editor John Borton: Michigan 31, Nebraska 17
The weatherman, Colorado and Troy. Who has beaten Nebraska this far, Alex? Michigan's up next.
TheWolverine.com Recruiting Editor Brandon Brown: Michigan 41, Nebraska 17
I think Scott Frost is going to be phenomenal at Nebraska, but not yet. Losing his quarterback is a big deal, and Michigan is still much more talented. The Wolverines should roll.
TheWolverine.com Staff Writer Austin Fox: Michigan 27, Nebraska 17
Michigan will control the game throughout against Nebraska, but it won't be the blowout some are expecting.
TheWolverine.com Analyst Doug Skene: Michigan 35, Nebraska 10
Scott Frost is going to have to continue to wait to beat Michigan. Michigan will beat the Cornhuskers by 25. In other news, the 1997 Michigan team is still better than the foot kicking '97 'Huskers.
TheWolverine.com Columnist Drew Hallett: Michigan 27, Nebraska 14. The Huskers may be better than their 0-2 record suggests, they may have starting quarterback Adrian Martinez back for Saturday and their aggressive defensive front may give Michigan's offensive line some fits. But those are a lot of mays.