Maize and Blue Mallett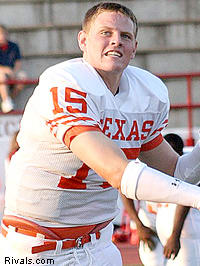 Michigan landed its highest rated prospect early in the process in each of the last two classes. Well, Texarkana (Tex.) Texas High quarterback
Ryan Mallett
may or may not be the highest ranked prospect in Michigan's class of 2007 when all is said and done, but a very strong argument can be made that he is U-M's most important. On Wednesday, when Mallett's announcement is officially official, the Wolverines will get their man.
The Texas athletic department confirmed that Mallett wished to offer the scoop to his hometown radio station and local newspapers. At one time he planned to announce on live radio, but instead taped a segment and met with local media Tuesday afternoon, agreeing that the announcement should wait until Wednesday. Texarkana Gazette reporter Johnny Green was one of three people at the mini-presser and confirmed Mallett was Michigan bound.
After a tumultuous last month and a half Mallett, the 6-7, 235-pound signal caller came to the decision this past weekend that he was going to be a Wolverine. Michigan had been in his top two, along with Texas, since basketball season ended at Texas High, but the Longhorns dropped out of the picture when their coaching staff informed him they needed a decision or were going in a different direction.
In response, Mallett reopened his recruitment and had a new list of favorites, sans Texas. Michigan stayed among the contenders, but was joined by Alabama, Oklahoma, Florida State and Notre Dame. The Irish landed top signal caller
Jimmy Clausen
on Saturday, but by that time, Mallett was on the verge of making his decision in favor of Michigan anyhow.
The Wolverines' relationship with Mallett did not begin last summer when he came up to Ann Arbor for their summer camp, but that's when it certainly became much more serious. He stayed for the entire week of the camp, rare for an elite prospect, and was visible in bonding with Michigan quarterbacks' coach Scot Loeffler and head coach Lloyd Carr.
Even in the company of top 100 class of 2006 quarterbacks like
Pat Devlin
and
Neil Caudle
at the Michigan summer camp, Mallett stood out. His arm strength was unparalleled and his command of the position was rare for a player just about to enter his junior season.
It was that arm strength that was again on display last July when Student Sports hosted their Elite 11 Camp in California. Although the invite-only camp is for seniors-to-be, Mallett and Clausen were invited to be "ball boys" in anticipation they would be there again the following summer. And when it came time to participate in the long throw contest, Mallett bested both the seniors and Clausen with a camp-best 78-yard toss.
For Michigan, and especially quarterbacks' coach Scot Loeffler, those types of tools are a dream. That dream should come to reality in 2007 when Mallett joins the Michigan program as the heir apparent to the throne Chad Henne now occupies.
Watch for more on Mallett in the hours and days to come ...