Manny Harris scores 52 in Redford win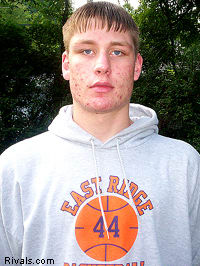 The Mr. Basketball voting is months away, but Michigan signee Corperryale "Manny" Harris seems to be doing his campaigning early. Harris was Detroit Redford's hero for the third straight game, this time scoring 52 points in a second overtime win in as many tries, 89-83 over Detroit Henry Ford.
The Detroit Free Press reports seven of those points came in the extra session and that Harris added 15 rebounds in the win.
"I only shot a few threes," Harris said. "I was just attacking the basket, and everything was falling today. It felt really good, but the important thing is that we got the win."
It's been all about winning for Harris, who exploded on the scene as one of the top players in his class this summer. The 6-5 senior will have an opportunity to improve on his No. 36 national ranking if he continues to play as he has in the early going for 4-0 Redford.
Harris scored 34 points and grabbed 13 rebounds in Redford's 66-59 win over Cooley Dec. 12 and scored 24 more, including the last nine of regulation, in a 76-71 overtime win over Detroit Cody Dec. 15. Redford trailed by four in the fourth quarter before Harris rallied his team to the win.
"I was just thinking we had to win," Harris told the Detroit News. "I had to kind of find myself. They were in a box-and-one and I had to get back into it."
"He willed us to victory," head coach Ken Flowers added, He didn't want us to lose. The team feeds off of him. The team goes as he goes."
So far, that's to 4-0.
Notes
• Signee Alex Legion continues to play well at No. 1 ranked Oak Hill Academy in Mouth of Wilson, Va. The 6-4 senior, Rivals.com's No. 38 player in the class of 2007, scored 13 points (including a triple) in Oak Hill's 71-58 win over Benedictine Dec. 16, and followed that up with an MVP performance in the team's 118-43 win over ChristChurch that improved Oak Hill to 14-0. Legion scored 25 points, including a triple, and dished seven assists in victory.
• Rivals.com's Justin Young caught another Michigan target, class of 2008 big man
Philip Jurick
, in action at his Chattanooga (Tenn.) East Ridge high school Dec. 15. Jurick, Rivals.com's No. 27 junior, finished with 11 points (5-11 FG, 1-2 FT), 11 rebounds and six blocks, but struggled a bit in the post, Young reported.
"When it came down to actually showing offensive moves in the post, Jurick struggled," Young wrote. "In the rare occasion when he was fed the ball in the post, Jurick didn't take advantage of the mismatch on the blocks and score easily over the shorter and weaker competition. But there is a lot to work with, and that is why he has a host of offers from high-majors."
Young later told TheWolverine.com Jurick's size and athleticism alone make him an attractive prospect.
"He's big, strong, pretty athletic, a lot of things you like," Young said. "He's got great size, is a raw product that if I'm a coach, I'm going to get him on my campus, coach him up, make him into a guy who can really help out the team. He plays with a lot of emotion … on the down side, he only went to the line two times."
Jurick named Tennessee and Indiana as his leaders several months ago. On Friday head coach Jon Goddard told Young Tennessee head coach Bruce Pearl and Auburn head coach Jeff Lebo had been in to see Jurick this season, while U-M's Andy Moore and assistants from Clemson and Indiana, among others, had also been to the school.
Jurick claims offers from Michigan, Auburn, Clemson, Indiana, Kentucky, Miami (Fla.), Ole Miss, Tennessee and Wisconsin. He's expected to visit Ann Arbor for a home game in the weeks to come.
"He should come along with coaching," said Young. "But right now, he's a work in progress."