Mason Cole commits to Michigan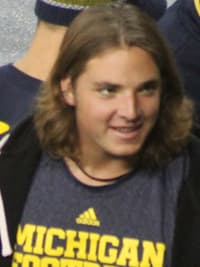 Michigan football's recruiting momentum continues with a pledge from four-star offensive lineman Mason Cole of Tarpon Springs, Fla. East Lake. Cole (6-5, 275) was part of a big visit weekend and becomes the fourth '14 to pledge.
"I've been there just two times before," he said before his most recent trip. "I was there for the barbecue in the summer and back for the Michigan State game. I've already seen all of the facilities and everything.
"The main thing I want to see is just spending some time with the players and the folks that are there. Just see what campus life's really like, and how it'd be to be a student there."
On Monday afternoon, he announced his decision to the world with the following Tweet:
Later, he called Michigan "a perfect fit in every way."
Cole held offers from some of the nation's top programs, including Notre Dame, Georgia, Florida and Ohio State. Though he's lived in Florida for the last nine years, he grew up near Chicago and hinted strongly he was ready to leave the state to play his college football.
"It plays a pretty big role for me," he said. "That's where all my extended family is. We still go up there and visit.
"It's just different. I want change too, to get out of this heat for a little bit. There's nothing like playing football in the middle of fall and having it be 50 degrees. There's nothing like that at all."
Still, U-M had plenty of stiff competition. Clemson emerged as an early leader in June, and he also saw USC, Stanford and several others.
"To me, it's whenever I fall in love with a school totally and know I'm ready to commit," he said after the trips.
That day came Feb. 25, with Michigan the lucky winner.
Cole is U-M's fourth pledge in the 2014 class and the third four-star prospect.
-- And share this story: