Meet Michigan QB Commit JJ McCarthy, The Hardest Working Recruit In America
JJ McCarthy might be a little crazy.
Seriously.
On a normal Tuesday, the 2021 Rivals100 Michigan quarterback commit from La Grange Park (Ill.) Nazareth Academy, just outside of Chicago, wakes up at 5 a.m. and runs to school. He then proceeds to go to do a cardio workout, go to class, hit the weight room, pick up his sister, work at his part-time job and train with a private quarterback trainer from 9:30-11 p.m.
Somewhere in between there, McCarthy also finds time to finish up homework and get prepared to travel the country with his club 7v7 team, Midwest Boom, which is set to partake in this weekend's mega Pylon Las Vegas event.
McCarthy's daily routine, in tweet form, of course, went a little viral with more than 500 likes.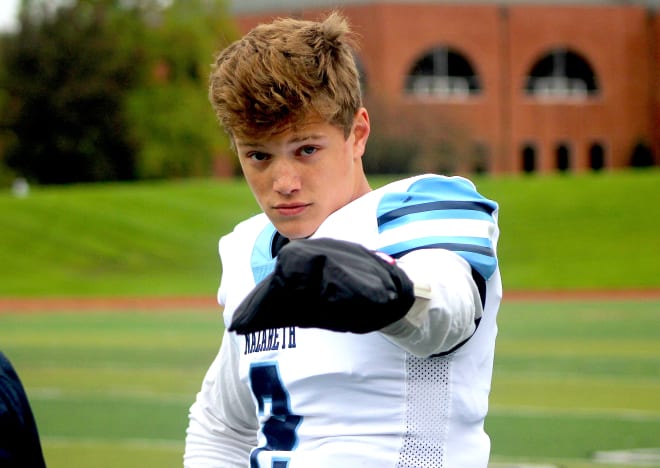 Pat Coogan, a three-star offensive lineman with a Michigan offer at Chicago (Ill.) Marist, was one of several fellow recruits that took notice.
"I saw you posted JJ's scheduled yesterday," Coogan said during my stop at his high school the day after the social media post. "That's really insane."
My response: "Yeah man, he's crazy."
This is going to sound like a tall tale, but it's not a joke.
A message board poster on Rivals who claims to be a licensed psychologist sent me a 1,400-word email with concerns about McCarthy's well being after seeing the post.
Here is an excerpt:
"I will give bare bones information so that you can possibly inform JJ's dad about them and he then can consult with the appropriate experts…. Two problems in the schedule I saw. First is that teens have a greater need for more sleep like 8-10 rather than 7-9. Besides that for reason unknown their bodies want to get up later and go to bed later. That is the reason for the famous teen 11:00 get up on Sundays. So his 5:00 get up is so early it messes with normal circadian rhythm of his age group."
So, uh, JJ's dad… do you ever tell your son to chill out?
"No, no," Jim McCarthy said. "He's cut differently. My wife and I shake our heads all the time. We're never going to tell him no. We just tell him 'when it's time to clean your room, it's time to clean your room.' That's for sure."
Unfortunately for the McCarthy family, keeping tidy is probably the last thing on his mind.
The cliché 'he lives and breathes football' is overused. Dull. Outdated. But for McCarthy, it truly holds weight. A lot of weight. It's hard to find a recruit in any class over the last several years that works harder and is as dedicated than McCarthy.
Little known fact — McCarthy was actually an elite youth hockey player. Once torn between two sports, McCarthy passed on a chance to travel the globe on the ice and instead decided to completely zero in on football.
Once he made that call, McCarthy became, well, a bit obsessed with being the best on the field.
"His work ethic is unbelievable," said private quarterback coach Greg Holcomb. "He's arguably the top quarterback in the class, but he has the ability to consistently keep learning. He's not one of those guys that feels like he's reached his peak because of his ranking. He's constantly asking questions. He's very cerebral.
"He's just a hard worker. His character is top notch. He's a guy that you wish everyone was like. He's easy to coach because he just wants it more than the average kid."
Way more.
Going into his junior season, McCarthy couldn't wait for individual meetings with Nazareth Academy head coach Tim Racki. Instead, McCarthy marched to his office and went over a checklist of areas of improvement.
"For a kid that has as many accolades as he does, he understands he can still be better, which really stands out," Racki said. "When kids are the big guy in high school, they kind of lose that. JJ always wants to get better. He met with me last year before I even called him in, and he had a checklist of things he wanted to get better at.
"He wanted to be more patient in the pocket. He did a lot of running around as a sophomore. He wanted to be better at reading defenses. He really wanted to study defenses and tendencies. He applied that and made a jump from sophomore to junior year."
You know those way-to-early morning workouts mentioned earlier? McCarthy goes through your usual series of cardio and endurance drills, but he ends it with a 'mental challenge.'
McCarthy sets a goal each morning and makes sure his mind can out-tough his body. His Tuesday choice was a three-minute dead hang. If he let his body win, McCarthy would make himself start over until he hung there for exactly 180 seconds.
"His work ethic makes him different," said elite 2022 wide receiver Tyler Morris, who plays with McCarthy at Nazareth and on Midwest Boom. "He's always the dude trying to get extra work in. He never skips a rep. He's always picking the team up and picking his teammates up. He's always making sure that he is making himself the best he can be."
Fellow teammate and 2021 flex end Landon Morris added:
"JJ is going to give you 100 percent all the time. If he's not satisfied, he's going to work until he reaches the top no matter what. His work ethic is unbelievable. If he keeps working, he'll be something special in college."
McCarthy, however, never brags about his own work ethic. He gets vocal when he needs to, but, for the most part, he leads by example. And it's clear he has his teammates' respect.
"He's a great leader," said three-star lineman Ryan Keeler. "He acts like he's just a normal kid. You wouldn't be able to tell that he has almost 40 DI offers. He's the hardest worker you'll ever meet. He has a 4.0 GPA. He's the total package, man."
McCarthy is more motivated than ever.
After leading Nazareth to a state championship as a sophomore, McCarthy and his team fell short last season. McCarthy heard 'overrated' chants from opposing student sections all year long and was limited to just 8-of-25 passing for 116 yards and a touchdown in the title game loss to Mount Carmel.
Weather played a role in McCarthy's less than stellar stat line, but you won't hear him use that as an excuse. The championship performance comes up on social media every now and then when discussing rankings and while McCarthy won't tell you, it's easy to see his internal fire grows brighter every time someone doubts him.
During his late night training session with Holcomb, McCarthy was told he needed to work on his play action. He dropped to the ground and did 50 push-ups. When he felt a throw wasn't good enough, he dropped down and did 50 more.
"All he wants to do is win," said Jim McCarthy. "I've never seen a kid that enjoys motivational speaking on the radio more than music. He picked me up the other day, and we're listening to Mamba Mentality and all these motivational guys. This is what drives him."
During this weekend's Pylon 7v7 Chicago tournament, Brandon Campbell a four-star 2021 running back from Texas, turned to me and said: "That quarterback's arm is strong as [expletive]. Man, you can tell he's different. It's crazy."
McCarthy has all the tools to be Michigan's solution at quarterback. During his tenure, UM head coach Jim Harbaugh has yet to recruit a quarterback that has been able to overcome the Ohio State speed bump and take Michigan back to the Promised Land.
McCarthy has been referred to as 'The Chosen One' and drawn comparisons to former Heisman Trophy winner Johnny Manziel — though McCarthy is the polar opposite when it comes to off-the-field behavior.
"His athleticism is off the charts," Racki said. "He can make something out of nothing. He makes it crazy for people to plan for. You can have everyone covered, but his mobility allows him to break the pocket and make a play. It's amazing. His decision making is key, too."
The No. 31 ranked overall recruit in the country, McCarthy has eye-popping arm talent, an extremely high football IQ, elite escapability, perfect ball placement and so forth. And obviously, he's a tremendous leader and the hardest working guy on the team.
Simply put, McCarthy is everything you want at the quarterback position. But McCarthy knows he can't do it alone.
Just like he does with everything else in his life, McCarthy is working extremely on the recruiting trail. He is literally doing everything he can to ensure more top talent joins him in Ann Arbor.
"He's been pushing me to go there since before he committed," said the aforementioned Tyler Morris. "He's telling me to commit every week. I don't think he's going to let up any time soon (laughs)."
McCarthy and Midwest Boom fell to Houston-based Fast 7v7 in the semifinals of the Chicago event over the weekend. While McCarthy was visibly upset after throwing an interception in the game's final minute, he put in a call to Michigan assistant Sherrone Moore.
McCarthy told him about Fast 7v7 defensive back Bryce Anderson , a 2022 LSU commit that patrolled the secondary and helped his team overcome some 'wow' throws from McCarthy. Minutes later Anderson tweeted out a Michigan offer.
It's clear McCarthy is the face of Michigan recruiting right now, and he could easily turn into the face of Michigan football for years to come.
As generational recording artist Kanye West once said, 'name one genius that ain't crazy.' McCarthy is a genius when it comes to football, and his relentless work ethic will continue to separate him from the pack.
So if hard work truly does pay off, well, then McCarthy may very well be the chosen one that Michigan fans have been longing for.
"JJ has that identity that blends right into Michigan football," Racki said. "It's obvious that Coach Harbaugh and Coach (Ben) McDaniels see the potential for him to come in and compete right away. They see what they can do with his game because he's so versatile. JJ is going to help Michigan big-time.
"He's humble. He's modest. He gets the team concept of football. He knows leadership. He's the whole package."