Michigan Basketball Strength Coach Jon Sanderson's Book Adds To His Success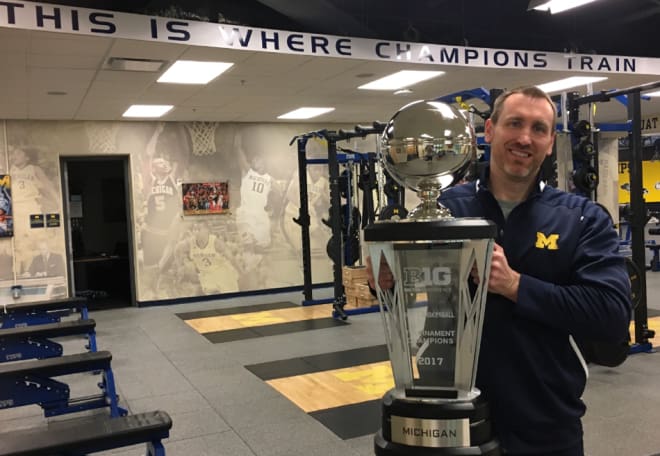 There's a hidden fact about Michigan basketball strength and conditioning coach Jon Sanderson that more college basketball fans would recognize if they took a minute to put two and two together …

He was a starter at forward on Ohio State's 1999 Final Four team, averaging 7.1 points and 4.4 rebounds per game in his two years with the program.
In his new book, Basketball Strength & Conditioning: Above the Rim with Camp Sanderson, there's even a picture of him in his scarlet and gray uniform, with picture perfect shooting form getting ready to release.
"That's about all I could do," he quipped of his shooting prowess.
He was being modest, of course, the way he has always been in talking about his success since taking over as U-M's strength coach in 2009. Player after player, many of them now in the NBA, have talked about the effect Sanderson had on their careers.
All of their before and after pictures usually tell the story, no words necessary. Former forward Jordan Morgan (2019-14) was one of the most glaring examples, going from doughy redshirt freshman to absolutely chiseled Big Ten center in just a few years.
Tim Hardaway Jr., who recently signed a $70 million contract to play with the New York Knicks, and Nik Stauskas, now with the Philadelphia 76ers, agreed they wouldn't be at basketball's highest level without his guidance.
"Camp Sanderson definitely made me a more explosive player," Hardaway Jr. said. "And he made me confident while I was playing. I became better defensively, and it was because of him…"
"Coach Sanderson was instrumental in my transformation from college athlete to professional basketball player," Stauskas added. "We set goals together and he pushed me to my limits to achieve them. I wouldn't be where I am today without his guidance and coaching."
Sanderson, affectionately called "Sandman" by his players, has done it humbly, a behind-the-scenes guy whose exploits you can't help but notice by the product on the floor … or in the occasional tweet in which he's praising his players for their progress.
Among this year's crop was a picture of sophomore guard Ibi Watson posting an amazing 44.5-inch vertical jump, a Michigan record, and another showing sophomore point guard Xavier Simpson right behind at 42.
He gets paid to be among the best in his profession, of course, but watching his kids develop is reward in itself.
"That's my favorite part of the job," Sanderson said. "I love seeing guys develop, the progress … I love when parents will call, text me, excited about the progress their son has made. It's a lot of fun. Obviously, so is winning and being part of something big.
"Two things — physical development and team development — are the things that really drive me."
He fell in love with the weight room and training in his experience at Lexington High School in Ohio, and started his professional career as the head strength and conditioning coach for Olympic Sports at Marshall University in 2003. He then moved on to become Assistant Strength and Conditioning Coach/Head Basketball Strength and Conditioning Coach at Clemson from 2006-2009 before joining head coach John Beilein's staff at U-M.
His professional certifications are too long to list, and they included Master Strength and Conditioning Coach (CSCCa) certification in 2016. But he's never satisfied, constantly looking for ways to improve and evolve.
For years, he's known he wanted to share some of those insights by writing a book. As it is with many endeavors, starting was the hardest part.
While walking through the Blevins Tunnel at the William Davidson Player Development Center a few years back, though, he got the motivation he needed from Davidson himself in the form of a quote on the wall.
"'Just start'," Sanderson recalled. "I'd probably seen it a million times walking down the tunnel. I remember seeing that, and it was too simple … I'd wanted to do it for so long. The hardest part is just to take the first step and start. I did that the fall of 2015, and once I got going I had so much fun writing it. I enjoyed it.
"Writing the book was one of my career goals, and I had talked about it for easily a decade, wanting to put down everything I've learned and kind of my philosophy on how athletes — specifically basketball players — should be trained."
The book is written in extreme detail, but it's not a tough read. From his overall philosophy to movement screening, athletic intelligence screening and much more, Sanderson has got it all covered. The back cover endorsements include everyone from former Michigan big man standout Terry Mills to Texas head coach Shaka Smart, who acknowledged he learned a great deal from Sanderson during their time together at Clemson.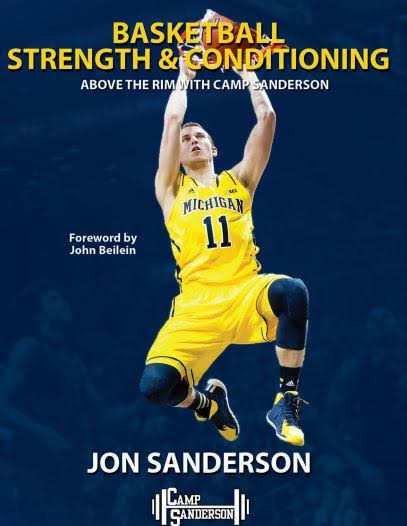 "For years I've gotten — and still get — emails and requests like, 'what do you recommend? Can you send programs, and what would you recommend I do in this scenario?'" he said. "That's one of the reasons I wrote the book — to answer a lot of questions and have a resource for coaches interested in what we do."
He didn't give all of his trade secrets away, he said with a laugh, though he's always looking out for the best interest of student athletes. At the end of the day, he noted, it's the execution that matters, and his is among the best in the business.
"It's about having relationships with players and getting them to buy into it, motivating them, pushing them, holding them accountable every single day," he said. That's what gets progress.
"A plan is a plan, but you've got to execute the plan. Coach Beilein, for example, has an unbelievable offensive system and his playbook is remarkable, but I don't think anyone can execute his playbook like he does."
Nor can others Sanderson's, his former players say. Sanderson, though, is as much about sharing with others as his own end result.
"For me, I'm just happy to help out and be a resource to a lot of coaches," he said.
Just one more thing that sets him apart.
For more information on Basketball Strength and Conditioning: Above the Rim with Camp Sanderson, visit www.malloybooks.com/JonSanderson.html
---
• Talk about this article inside The Fort
• Subscribe to our podcast on iTunes
• Learn more about our print and digital publication, The Wolverine
• Follow us on Twitter: @TheWolverineMag, @BSB_Wolverine, @JB_ Wolverine, @AustinFox42, @AndrewVcourt and @Balas_Wolverine
• Like us on Facebook