Michigan Football: 2021 Cass Tech OL Would 'Like To Stay Close To Home'
Get a FREE 30-day trial using promo code Blue30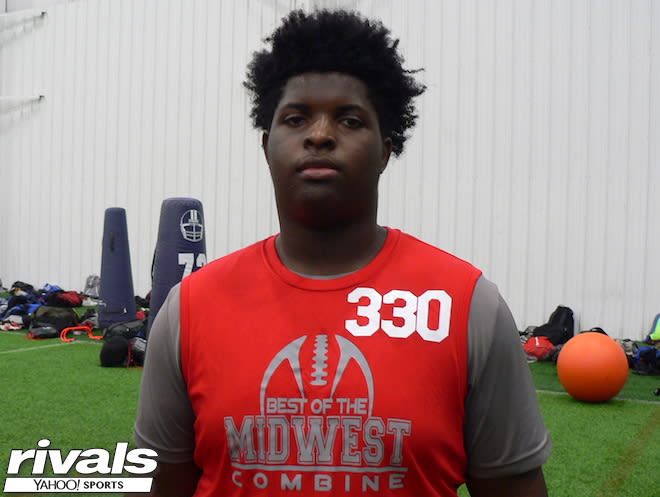 Michigan's pipeline to Cass Tech High School in Detroit has been well-documented over the years, and the Wolverines have gotten a head start on a young lineman there — who will be just a sophomore this fall.
Class of 2021 center Raheem Anderson already stands 6-3, 295, and is beginning to reel in the offers.
"I have five at this point," he said. "Michigan, Iowa State, Morgan State, Toledo and Akron have all offered me."
U-M is obviously the only major conference team of the aforementioned group, and their coaches have made sure to make a solid early impression on the young lineman.
"Quite a few people on their staff have actually already talked to me," he said. "Coach [Ed] Warinner, Coach [Jim] Harbaugh and some of the recruiting coaches are the people I've all spoken with."
Anderson said he's been following Harbaugh since his NFL days, and revealed how he first became familiar with the coach on the game's biggest stage.
"I've been looking up to him since he coached the 49ers," the Cass Tech lineman said. "I especially remember when his team played the Ravens in the [2013] Super Bowl.
"I didn't know about him before that, so it's kind of funny that I first found out about him when he went up against his brother.
"I didn't necessarily root for either one of those teams when I was young — I'd just root for anyone who was winning. I don't want to sound like a bandwagon fan, but I just like to see good games."
While Anderson explained that he doesn't have any childhood favorite schools who will definitely be at or near the top of his list, he did admit that programs in the Midwest will have an advantage for him, because he's "trying to stay close to home."
The Wolverines have several Cass Tech alums on their current roster — sophomore receiver Donovan Peoples-Jones, sophomore defensive back Jaylen Kelly-Powell, junior right guard Mike Onwenu, etc. — and although none of them played there while Anderson was on the team, he said he's quite familiar with one of them in particular.

"I know Big Mike [Onwenu]," he laughed. "I also know [sophomore center] Cesar Ruiz. Both of them are pretty fun and chill guys.
"I've met Mike several times since he went to Cass, and I've been texting Cesar for a bit too."
Anderson currently projects to play the same position in college that Ruiz plays at Michigan — center — but admitted that could potentially change.
"If I get taller while I'm still in high school, I think [head coach Thomas] Wilcher might move me out to tackle."