Michigan Football: Ben Bredeson Says Offense Has Swagger, New Attitude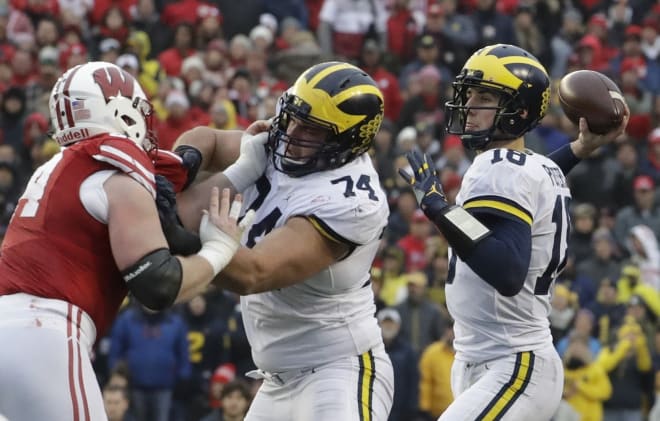 If you've missed any of The Wolverine's spring coverage, get caught up on everything at our Spring Ball Headquarters.
With four-year starter Mason Cole departing for the NFL, Michigan is in need of a new top dog on the offensive line.
Junior guard Ben Bredeson just might be that guy.
He has started at left guard each of his first two seasons at U-M and is expected to do so again in the fall.
After a season where the offense, and offensive line in particular, struggled, Bredeson says the offense has a newfound mindset during spring practice.
"As an offense, I think we've gotten a little bit of a swagger this spring," Bredeson said. "Everybody's got a bit of an attitude and I think we've been playing a lot better than I've seen in the past.
"It's a don't back down attitude. We have a chip on our shoulder, we weren't the strongest point of the team last year. We're sick of hearing that, so we're done with that."
The attitude change was sparked by an offense only team meeting, where players made it clear that they needed to step up. The veterans don't want to be overlooked and are tired of letting down the defense.
"When the defense is busting its ass to make plays and we come up short, it's like letting family down for us," Bredeson said.
He added that both fifth-year senior tackle Juwann Bushell-Beatty and redshirt junior tackle Jon Runyan Jr. are also leaders on the o-line. Sophomore center Cesar Ruiz has made huge strides and has caught everyone's attention.
"Cesar is doing really well," Bredeson said. "He's growing up, learning the offense a lot better, making calls, being assertive. He's playing very physical this spring, I'm looking forward to seeing what he can do."
The offensive line is under the tutelage of a new coach, Ed Warinner, who joined the staff after stops at Minnesota and Ohio State. Bredeson says he knew him from his time at OSU, and has a great relationship with him.
"I think with the coaching change and Coach Warinner coming in, we're learning new techniques and new styles of play, just little tweaks to fundamentals," Bredeson said. "Personally, they've been paying off big and when you watch the offensive line as a unit, we've made some big strides this spring."
He views being able to have learned from three different offensive line coaches as a good thing, because it's given him and his teammates multiple ways to approach the game, and they can take what works best for them, but that he has been impressed with Warinner.
"He's produced a lot of NFL talent and some great lines over there [at OSU]," Bredeson said. "Obviously, I'm not going to sing Ohio State's praises for long, but he did a hell of a job so I'm excited to have him here."