Michigan Football: Drevno Says Brandon Peters Has Right Mindset To Excel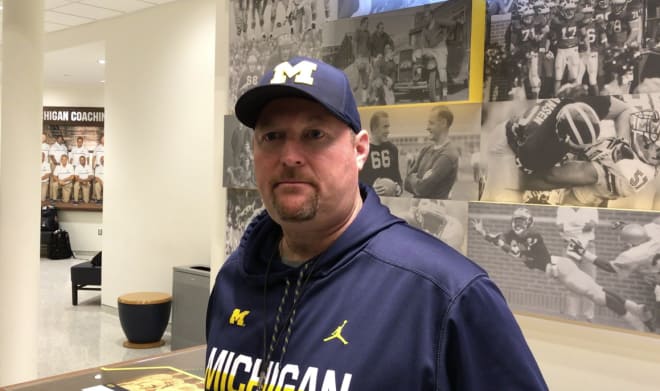 Michigan offensive coordinator Tim Drevno has seen plenty of Brandon Peters the last one and a half years. The redshirt freshman quarterback has gotten to the point that he's earned the staff's trust, and part of that is because of his demeanor.
Drevno called him a "flat-liner" in speaking on 97.1 The Ticket Wednesday morning, a "closer with bases loaded coming out of the bullpen to close the game out."
"That's what you want as a quarterback," Drevno continued. "You don't want to get too high; you don't want to get too low. You want to stay within your zone, because you don't want to get emotionally hijacked. That could take you in a different [direction] and spin you out.
"Brandon has that DNA makeup to be an outstanding football player and quarterback here at Michigan, and that's what you're looking for in a quarterback — a leader and even-keel [guy], and a guy who can make a play when there's no play to be made."
He did that a few times in a win over Rutgers two weeks ago, completing some passes on the run. He only threw 13 times against Minnesota, in large part because the ground game produced 371 rushing yards.
Peters described his job Saturday as making sure every man did what he needed to, usually on running plays. He missed a few throws, but Drevno was still pleased.
"He did a great job," Drevno said. "Brandon did a great job commanding the huddle, leading us, getting in the right situations that we needed to on the field that the defense was dealing us. We were just using what was working on Saturday.
"There will be an opportunity for Brandon to show his throwing talents and for our receivers to catch the ball. Bottom line … we came out with the win, and you just keep working and keep using what's working for you and don't back off until they stop you."
Peters was still sacked three times, however, so there's plenty of room for improvement up front despite the better run blocking.
"We've got to get better," Drevno said. "There are a lot of things we have to fix up front. We've got to be the hardest critics on ourselves to get better, and every week's a new week to do that."
NOTES
• Drevno said the run blocking has improved, but so have the backs.
"It's taken huge strides forward every week," he said. "I think they're settling in and getting to understand our concepts better and understanding the techniques and working with each other. I think that's huge.
"The backs are getting a feel how we're blocking up front and letting the play express itself. They're making strides every week."
The young receivers, however, continue to learn.
"One thing, the transition from high school to college is a huge jump in terms of the speed of the game and how people play press coverage and use their hands," Drevno said. "And there's a young kid standing across from a 21-year-old, a corner that's three, four years into it, so there's a transition.
"Our system is very receiver friendly. [Pass game coordinator] Pep [Hamilton] and [graduate assistant] Joe Hastings do a great job with the receivers. They're getting better every week, but I wouldn't say we're a complex system. We're getting better at the receiver spot like any position on the offense."
• Drevno said every day working with head coach Jim Harbaugh has been exciting for him.
"I wouldn't say he's quirky. I'd say he's a true competitor and a phenomenal man and a great leader," Drevno said. "Working with him every day, every day I come in here it's like, 'Wow, I get to work with Jim Harbaugh.' He brings so much to the table in terms of thinking outside the box.
"He's a true leader. He makes decisions. He's a great father, a great husband. You don't find anybody better than him. I've been with him a while and we've been through a lot of different things together, and he's a great football coach … a great mind, and I feel very privileged to be at the University of Michigan and be able to coach under Jim Harbaugh and his leadership with his team."
• Junior running back Karan Higdon ran for 200 yards a second time this year, and he's still got another level to reach, Drevno said.
"He's 196 yards from 1,000, and he's playing at a high level right now," Drevno said. "Those backs the other night, I've never seen anybody break so many tackles, yards after contact. They saw the hole well. They let the play express itself when the ball was handed off.
"Karan is playing at a very high level, and [sophomore] Chris Evans had a breakout game. I think we have three backs at 500 yards each or more, and I think we're one of the only schools in college football to have that besides Clemson and USC."
---
• Talk about this article inside The Fort
• Subscribe to our podcast on iTunes
• Learn more about our print and digital publication, The Wolverine
• Follow us on Twitter: @TheWolverineMag, @BSB_Wolverine, @JB_ Wolverine,@AustinFox42, @AndrewVcourt and @Balas_Wolverine
• Like us on Facebook