Michigan Football Early Enrollee Bio: WR Tarik Black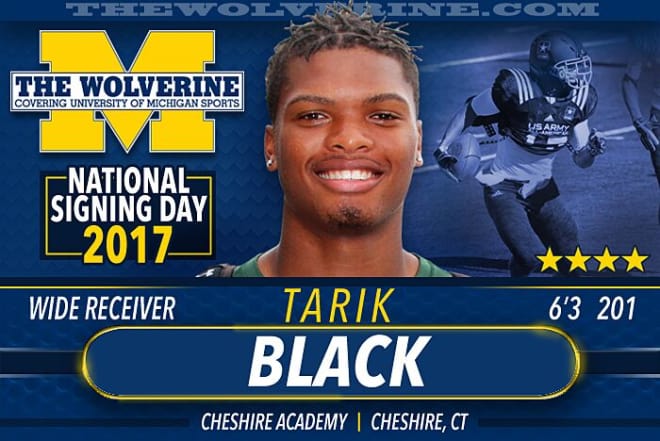 Measurables
• At Nike's The Opening, Black ran a 4.08-second 20-yard shuttle. He also recorded a 36.4-inch vertical jump and a 36.0-foot power throw.
Statistics
• Had 32 catches for 615 yards and 11 touchdowns as a senior. Also had one rushing touchdown.
• Totaled 30 catches for 610 yards and eight scores as a junior.
• Had 57 catches for 926 yards and 12 touchdowns as a sophomore.
• Recorded 40 catches for 745 yards and nine touchdowns as a freshman.
Honors
• Named to the New England Preparatory School Athletic Council Class A All-New England football team all four years of high school.
• Named Team MVP during his senior season.
• Selected to USA Today's All-USA Connecticut as a first-team wide receiver after his junior and senior seasons.
• Named a second-unit athlete on MaxPreps 2014 Sophomore All-American Team. Was a second-team wide receiver on MaxPreps Freshman All-American Team.
All-Star Games And Camps
• Attended the Rivals Camp Series New Jersey in 2014, 2015 and 2016.
• Was invited to the Rivals250 Underclassmen Challenge in Jacksonville, Fla. in 2014.
• Attended Nike's The Opening regional camp in New Jersey in 2016
• Was invited to the Rivals Five-Star Challenge in Atlanta in 2016.
• Participated in the U-M satellite camp in Cheshire Jun. 4. 2016.
• Participated in the U.S. Army All-American Bowl on Jan. 7, 2017 and caught one pass for 11 yards.
Recruitment
• Committed Dec. 13, 2016.
• Took official visits to Michigan (Sept. 3. 2016), Auburn (Sept. 9, 2016) and Alabama (Nov. 12, 2016).
• Held additional offers from the likes of Georgia, Miami, Michigan State, Nebraska, Notre Dame, Stanford, Tennessee, Texas A&M, UCLA, West Virginia and Wisconsin among many others.
• Former Michigan passing coordinator Jedd Fisch and defensive coordinator Don Brown were heavily involved in Black's recruitment along with head coach Jim Harbaugh.
• Is already enrolled at Michigan as a freshman.
Notable
• Born Feb. 10, 1998.
• Black and fellow early enrollee Donovan Peoples-Jones are roommates at Michigan.
• Black is one of four incoming recruits from Connecticut (wide receiver Brad Hawkins, linebacker Ben Mason and offensive lineman Andrew Stueber are the others), the most from any one state outside of Michigan in this class.
2017 Projection
With Black's size and ability to get open, coupled with vacancies at wide receiver left by the departures of Jehu Chesson and Amara Darboh, he'll have a chance to see the field as a freshman. His catch radius, hands and run-after-the-reception ability will make him a favorite target for Michigan quarterbacks down the road, and it may just kick off during his rookie campaign.
They Said It
Rivals.com Mid-Atlantic Recruiting Analyst Adam Friedman: "Black has hovered around the bottom of the Rivals100 since he was first rated back in March of 2015 but got some big bumps throughout his senior year. His length, consistent hands and crisp route running led to impressive performances at elite camps and propelled him back into the Rivals100 all the way up to No. 76 overall."
Cheshire (Conn.) Cheshire Academy Head Coach David Dykeman: "I can tell you this — Tarik is a prototypical X receiver. If you go in the lab and build one it looks just like him. He's tall and put together, he glides when he runs, he has incredible ball skills, he has an innate ability to get in and out of routes and cuts, he can catch the ball in traffic, he can go up high and get it, and he can run by you. He's the complete package as a wide receiver.
"People don't think he's fast because he runs with such ease and has these long strides, but every time, he seems to be behind somebody. It doesn't matter where it is either. It can be here, at Rivals, at other big camps — he's got high-level speed."