Michigan Football: Harbaugh Has Faith In John O'Korn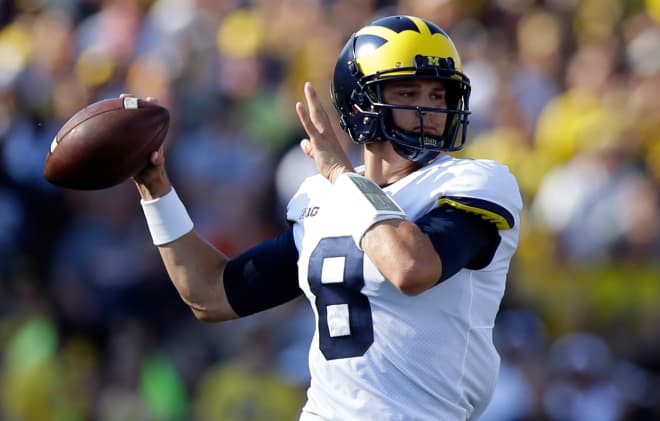 Harbaugh, speaking on 97.1 The Ticket Detroit Wednesday, said there's no added pressure on his signal caller ... nor should there be.
"Like a lot of us going into this game, it's a big game. There's a lot on the line for the team, and personally," Harbaugh said. "I'm sure he is going in looking at it that way.
"What somebody does, they prepare themselves ... understanding the game plan, understanding the opponents, putting themselves in the best position to be successful in the game. We're recommending that all his focus and energy are on that, not necessarily the outside factors of the game. Just the game. Concentrate on doing his job and playing the position."
O'Korn entered a 28-10 win at Purdue two weeks ago and played extremely well, throwing for 270 yards. That was a testament to his preparedness, Harbaugh continued.
"You're better to be prepared and have that opportunity not come than to have the opportunity come and not be prepared," Harbaugh said. "It's much easier said than done. Some can do it ... some can't. John had that opportunity to come in two weeks ago against Purdue. He was not the starter ... he was the backup quarterback.
"I'm sure he's heard that old saying, 'you're one play away when you're the backup quarterback.' You don't know when that opportunity is going to come, but it came and he was prepared. The proof was there that he did that. That's not easy. Not all players do that, but he certainly did, and it was much to his benefit and the team's benefit."
He should only benefit and get better by taking the majority of reps in practice, the same with backup Brandon Peters and true freshman Dylan McCaffrey, who is now third string.
"Probably the biggest compliment you can give John O'Korn is there has been no change from the way he was in spring ball to the way he was in training camp to the way he was in the first game, the second game, the third game, the fourth game," Harbaugh said. "He's the same John O'Korn we've seen each and every week. Nothing's changed, because he's been preparing like he was the starter each of the those weeks and months.
"[The team] believes in John. They've had a lot of time on task with John as the quarterback. I hate to use the word 'easy.' I'm trying to come up with a better word."
Seamless might describe the transition, and it bodes well for the Wolverines going forward.
NOTES
• Harbaugh said he'd encourage his team to sleep in Saturday morning in preparation for the night game.
"The worst thing you can do is start watching other games, and then you get emotionally wrapped up in other games," he said. "We'll get up a little bit later, we'll have some meetings in the late morning. We'll get three good meals in the players before they play the game.
"We'll schedule in time to get off their feet, too. Maybe even take a nap if they can to shorten the day, so they're not becoming so emotionally ramped up.We're trying to avoid that before they really need to. We can't really simulate that during the week because they have class. They have to get up and go to class in the morning. They can't skip or blow off those classes."
• Harbaugh has been impressed with Michigan State quarterback Brian Lewerke.
"He was already a good quarterback, and you see him getting better and better and better. He has very good arm talent. He's got good instincts to be a runner," he said. "He's very effective as a ball carrier. He also makes big plays, has a penchant for doing that. He seems like he's in control out there. That really shows up. That will be a big challenge for our defense and our football team."
He said his team would be prepared for any potential trick plays. Purdue threw the gamut at them, including plenty of misdirection.
"We do practice against it. It's part of the defensive scheme to have eyes on, if it's man coverage, your man," he said. "Not get tricked into taking your eyes off your eligible receiver and look into the backfield, keys for linebackers when it comes to guards pulling.
"If you have a zone to cover, you cover that zone first, and then come up on the run. We had a lot of practice on that the last time we played a game against Purdue. They had double-digit trick plays in that ball game. They're allowed to run trick plays, so we've got to be able to defend them."
---
• Talk about this article inside The Fort
• Subscribe to our podcast on iTunes
• Learn more about our print and digital publication, The Wolverine
• Follow us on Twitter: @TheWolverineMag, @BSB_Wolverine, @JB_ Wolverine, @AustinFox42, @AndrewVcourt and @Balas_Wolverine
• Like us on Facebook