Michigan Football: Mobility Of MSU QB Brian Lewerke A Focus For U-M Defense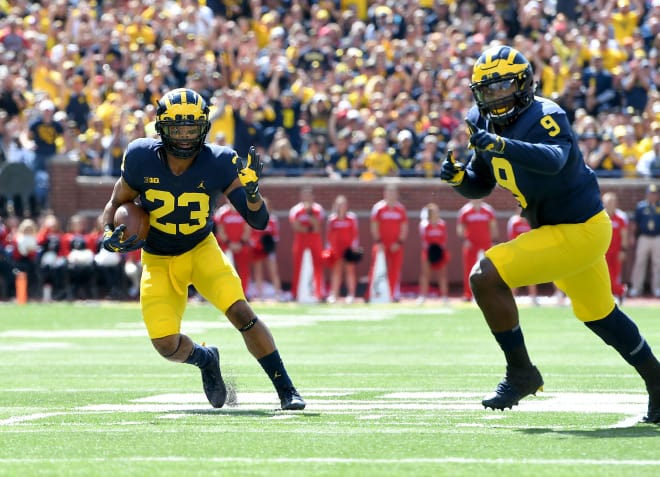 It's clear to fans that this week's game against Michigan State is more than just your typical regular season game. The rival Spartans come to town to face the Wolverines in the first ever night game between the schools at Michigan Stadium.
It's not just fans that are excited for the weekend to arrive.
"This is a big game," Michigan junior safety Tyree Kinnel said. "Anytime I was in high school and coming to a game, I wanted to come watch the Michigan-Michigan State game because you know how big it is. There's a lot of bragging rights. That trophy means a lot. We walk by it every day in the locker room and it reminds us we beat Michigan State. We don't want to see the trophy leave."
Michigan has only beaten Michigan State twice since 2008 and are hoping to win back-to-back years for the first time since Michigan won six straight from 2002-2007.
"The intensity is going to be at a high level," Kinnel said. "They're going to play hard, we're going to play hard. There's going to be no plays off. It's going to come down to execution. The whole atmosphere, the crowd, it's all going to be big."
The Spartans will present a different kind of challenge this weekend on offense because sophomore quarterback Brian Lewerke can attack Michigan through the air and on the ground.
"The quarterback is good, he can run and he can throw," Kinnel said. "We have to stay on our receivers in the secondary because he can throw really well on his feet."
This season, Lewerke has completed 84-of-133 passes for 963 yards, eight touchdowns and two interceptions. He also has rushed 38 times for 248 yards and two scores. A running quarterback tends to match up well with man defenses like the one Michigan plays.
"Just from watching film, [the wide receivers] keep their routes going when he's on his feet," Kinnel said. "He's constantly looking downfield. I feel like we're going to have a great chance to get back there and push him out of the pocket a lot during this game, so the secondary needs to stay on the receivers as much as we can."
Michigan State has bigger receivers, led by 6-foot-4 junior Felton Davis III who has caught 21 passes for 261 yards and four touchdowns already this season. He lit up Iowa's secondary last week, grabbing nine balls for 114 yards and two trips to the end zone.
"We've been anxious to play," Kinnel said. "We're ready to get back at it on Saturday."